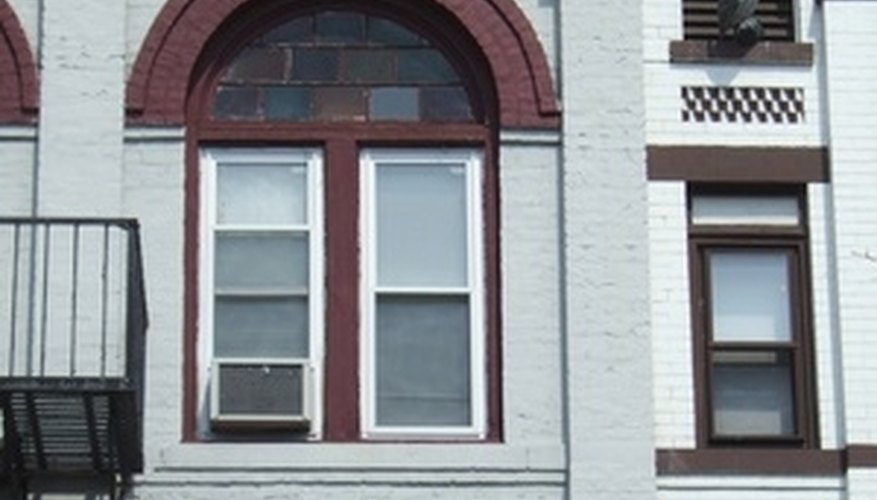 It can provide a fresh look with clean lines. Regardless of what the molding looks like, it can be painted or stained to match the other windows in the house. You also have the options of creating a basic trim, or adding decorative corner squares for a more ornate look.
Make sure the window jambs are flush with the wall by seeing if they protrude from the wall. If they are not flush, sand down the jambs using the 120-grit sandpaper. If the window jambs are protruding from the wall, the trim will not lay flat.
Measure each side of the window with the measuring tape to get an exact measurement from the bottom of the window to the top. Once you have an exact measurement, use your saw to cut two pieces of molding to that height. They will create the side trim for the window.
Measure the width of the window with the measuring tape and add the width of the side trim. This measurement will be the length of the top and bottom trim. Using this measurement, cut two more pieces of molding with your saw.
Line up the first piece of side trim to the side of the window. Put a line of carpenter's glue on the back of the molding where it will go over the window jamb. This will help to hold the wood in place while you attach it.
Attach the trim using a finishing nail gun. Place the nails approximately four inches apart; starting at the bottom of the window and working up to the top. Repeat steps 4 and 5 with the second piece of side trim, and the bottom trim.
Attach the top trim last. Line the trim up to ensure your measurements were correct. Then trace a line of glue across the back of the trim to hold it to the window jamb before you attach it with finishing nails.
Use a nail set and hammer to push the finishing nails into the wood.
Fill the nail holes with wood putty. Wipe away the excess putty while it is still fresh to ensure an easier clean up.
Sand the trim after the putty has dried. Use 120-grit sandpaper for the best finish. When you are done sanding, wipe the trim down with a damp rag to take away any dust or particles from the sanding.
Paint or stain the trim as desired.
Things You Will Need

Molding
Saw
Measuring tape
Carpenter
Wood glue
Finishing nails
Nail gun
Nail set
Hammer
Wood putty
120-grit sandpaper
Stain
Paint
Tip
For a more decorative or ornate look, you can cut the top trim so that it only covers the top of the window. Then make or purchase corner blocks to install at the top of the side trim.