How to Repair the Brace on a Folding Chair
The folding chair is one of the most inexpensive and functional pieces of furniture you have in your house. They are suitable for indoor and outdoor use and they are able to fold up for easy storage. Like any other piece of furniture, folding chairs wear down after a while and certain pieces will break. The brace is one of these pieces. It's the long strip of material that connects the two front legs and back legs together. It helps stabilize each pair of legs so they don't bend to the side while you're sitting. The method you'll use to fix the brace will depend on the chair material.
How to Fix the Brace on a Wooden Folding Chair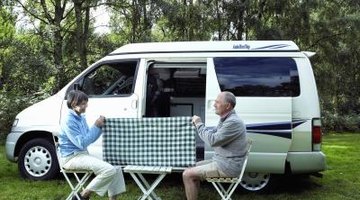 Step 1
Fold the chair closed and flip it upside down. This will give you the most comfortable angle to work on the brace.
Step 2
Locate the break in the brace. With wooden chairs, the brace is most likely to break where it meets the leg.
Step 3
Hold the brace in position and apply wood glue to the break and the leg. Hold the two pieces in place for several minutes or until the wood glue has dried enough to hold the brace in place.
Step 4
Return to the chair after letting the glue completely dry. Read the instructions on the glue bottle to find out how long the particular brand you bought will take to dry.
How to Fix the Brace on a Metal Folding Chair
Step 1
Fold the chair and flip it upside down to give you a comfortable working angle.
Step 2
Find the break in the brace. Metal braces usually break where they meet the chair's leg, or the point at which they are welded.
Step 3
Turn on your welder and apply the flame to the brace and the leg until they are welded together.
Step 4
Turn off the welder and allow your chair to cool down before you sit in it again. Open the chair and sit gently when the metal is no longer hot.
Resources
Writer Bio
David Montoya is an attorney who graduated from the UCLA School of Law. He also holds a Master of Arts in American Indian studies. Montoya's writings often cover legal topics such as contract law, estate law, family law and business.
Photo Credits
Gary John Norman/Lifesize/Getty Images
More Articles