How to Repair a Delta Diverter Valve
Delta manufactures a large array of fixtures for the bathroom and kitchen. There are several styles and finishes of bathroom fixtures for a shower and tub combination. A diverter valve directs the main flow of water to either the showerhead or the tub spout. Turning the diverter knob opens one valve in an internal cartridge for water flow and closes the other valve to shut off the water flow to it. After several years of use, diverter valve seals wear out or break and cause the water to leak from under the handle. A defective diverter valve will also allow water flow from only one area.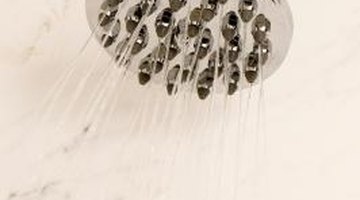 Turn the water supply off to the shower.

Insert an Allen wrench into the setscrew in the diverter handle bottom on a paddle type knob. Turn the Allen wrench counterclockwise to loosen it. For a round knob-style diverter, pry the knob cap off with a screwdriver and loosen the screw underneath in a counterclockwise direction. Pull the paddle knob or round knob off the diverter.

Place a pair of adjustable pliers on the brass bonnet. Turn the pliers counterclockwise to loosen the bonnet. Pull the bonnet straight out and off the valve. Unscrew and remove the plastic sleeve in a counterclockwise direction.

Pull the cartridge out of the cartridge body with adjustable pliers while twisting it side to side.

Align the bottom pin of a new cartridge with the hole in the cartridge body to insert the cartridge.

Place the plastic sleeve on the cartridge and tighten it clockwise with adjustable pliers. Repeat this process to replace the brass bonnet.

Place the knob on the diverter and tighten the screw in the center on a round knob or the setscrew on the bottom of a paddle-type knob.

Turn the water supply to the shower on.
References
Tips
Use a spray lubricant to loosen an older cartridge that is stuck. Apply the spray lubricant liberally between the cartridge and body and let it soak for 10 minutes.
Close the bathtub or shower drain to keep parts from falling into it.
Purchase a new diverter valve by the model number of the fixtures to ensure the correct replacement part.
Writer Bio
Mary Lougee has been writing for over 10 years. She holds a Bachelor's Degree with a major in Management and a double minor in accounting and computer science. She loves writing about careers for busy families as well as family oriented planning, meals and activities for all ages.
Photo Credits
Jupiterimages/Photos.com/Getty Images
More Articles