How to Paint a Canvas Chair
A canvas chair tends to evoke images of a folding director's chair, but canvas can be found on many chair styles including sling back, modern and beach style chairs. Canvas can also be found on many slipcovers due to the durability of the fabric and its often inexpensive cost. The good thing about canvas is that you can paint it to suit your style and mood. Use a good acrylic outdoor paint if you want a solid, saturated color. Consider artist acrylic paints for more vibrant effects.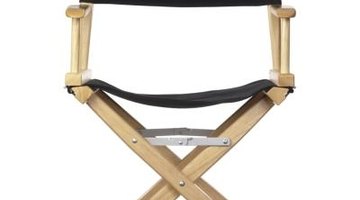 Wash older canvas pieces with soap and water to remove stains, grime and plain old dirt. Allow the canvas to dry completely.

Remove the canvas from any wood parts when possible. Tape off wood when you can't remove it easily. Use painter's tape and mask anything you want to keep unpainted.

Mix your acrylic paint well and apply paint to both sides of the canvas. You may need to hang the fabric or do one side at a time. Try not to clog all the holes in the canvas and make it stiff. If you feel your paint is too thick, thin the paint with water or glaze and apply multiple thin coats.

Draw a design on the canvas if you want to paint in a more painterly or artistic way. Sketch out shapes, patterns or a design you like with a pencil.

Paint directly on the canvas with acrylic artist paints. Keep a spritzer bottle with water close at hand to keep the paint wet if you are painting outside and it is drying too quickly. Acrylic will adhere well to the canvas and is outdoor safe once it dries. You can paint any design on the canvas you like.
References
Tips
Don't seal your paint with clear coat. Most clear sprays will yellow over time. When canvas wears or antiques, it tends to look better.
Writer Bio
F.R.R. Mallory has been published since 1996, writing books, short stories, articles and essays. She has worked as an architect, restored cars, designed clothing, renovated homes and makes crafts. She is a graduate of the University of California at Berkeley with bachelor's degrees in psychology and English. Her fiction short story "Black Ice" recently won a National Space Society contest.
Photo Credits
Ablestock.com/AbleStock.com/Getty Images
More Articles