How to Cut Flexible PVC for Hot Tubs
Flexible PVC tubing is not quite as strong as its more rigid cousin, but it does have the advantage of the ability to be wrapped or bent in ways ordinary PVC cannot. This is especially handy in the small spaces of a hot tub, as ordinary PVC would be too unwieldy to use in most instances. Because the flexible tubing is essentially just PVC pipe with some bend to it, the methods used to cut through ordinary PVC pipe work just as well for the flexible variety.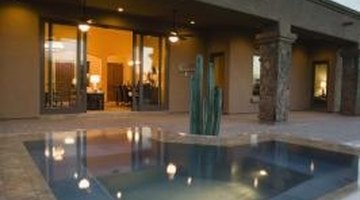 Determine how much flexible PVC pipe you'll need. A quick and simple way to do this is to wrap the PVC pipe around from connection point to connection point and then mark on the pipe where it will fit onto each point. Add a couple inches to either end just to make sure you do not cut it too short. You can always trim excess length later.

Place the pipe in the jaws of the pipe cutter -- or secure the pipe down in a vise if you are using a hacksaw.

Cut through the pipe. If you are using a pipe cutter, simply squeeze the jaws closed. If using a hacksaw, saw all the way through the pipe and do not try to break the pipe off before the saw has gone straight through.
References
Writer Bio
Joshua Benjamin began as a professional freelance writer in 2009. He has successfully published numerous articles spanning a broad range of topics. Benjamin's areas of expertise include auto repair, computer hardware and software, firearms operation and maintenance, and home repair and maintenance. He is currently pursuing a Bachelor of Business Administration from California State University, Fresno.
Photo Credits
Jupiterimages/Comstock/Getty Images
More Articles