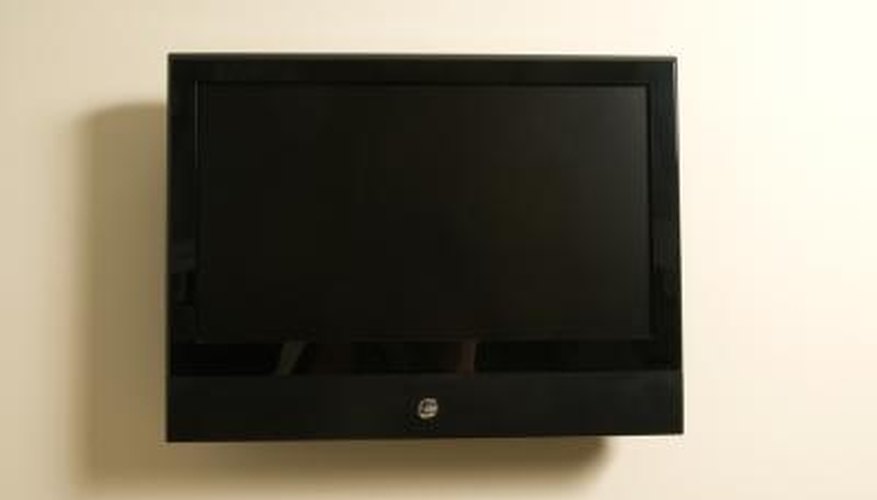 The position of a wall TV will vary according to the layout of a specific room, of course, but several tips serve as general guidelines to place it in a way that is the most comfortable for most viewers.
Position the TV to create the optimal ratio between screen size and viewing distance. The greater the size of the screen, the farther it should be placed from viewers. Position a 37-inch TV between 4.5 to 7.5 feet away from viewers' chairs. Position a 58-inch TV 7.25 to 12 feet away. Check the owner's manual for your television before hanging it -- it usually recommends viewing distances for each model.
Adjust the viewing angle for your TV. A flat-screen TV is best viewed when your eyeline hits the center of the screen. Sit in a chair and notice where your eye falls comfortably. Adjust the tilt of the screen until the center is where your eye falls.
Hang the wall TV away from windows or interior light sources to reduce screen glare. While some models feature a protective film that will diminish the effect of screen glare, any nearby light source will still affect the picture. If you are unable to position a wall TV away from light sources, use a tilting wall mount kit to maneuver the screen away from the light source.
Mount the television 3 to 5 feet off the floor, which will place the TV within your eye line when sitting in a sofa or recliner; however, if you wish to mount the television higher or if it is being placed over a fireplace, install it with a tilting TV mount. This type of mounting kit allows the TV to be tilted downward to maintain the best viewing angle even though it is mounted higher on the wall.
Tip
Run cables together down the side of the wall using a cable management raceway, a paintable housing for TV and audio cables, to keep the room looking tidy. Or, run the cables behind the wall, if possible.