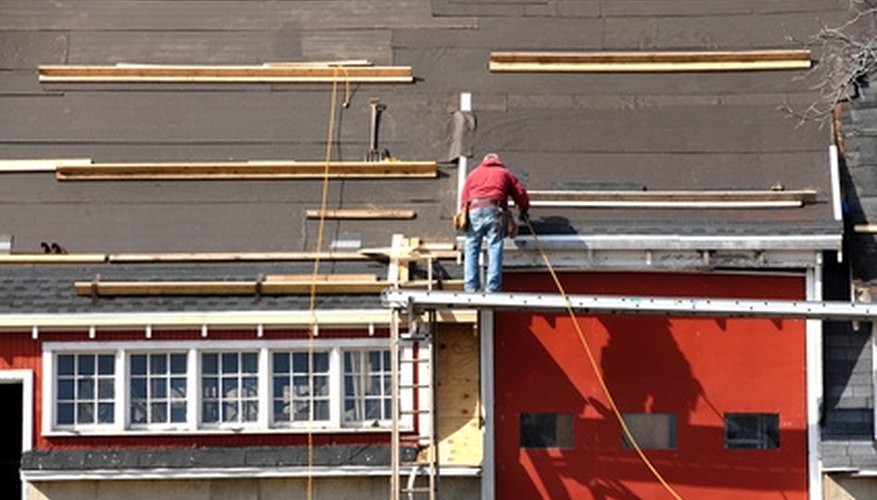 Shingles weigh at least 225 pounds per 100 square feet of roof. If you are taking down shingles from a house with 1,800 square feet of roof, that's more than two tons of shingles you need to dump. The law on how you can dump roofing shingles can vary as some towns require you to hire a disposal service while others may allow you to haul them to a landfill yourself.
Contact your town's building inspector or the office of building code enforcement to inquire about the laws regarding where and how you are allowed to dump roofing shingles. You may also want to contact landfills in your immediate area, even if you are not a resident of the county or town where the landfill is located. You might be allowed to haul the shingles to another county and pay to dump them there.
As you pull off the shingles from the roof, dump them into a designated construction dumpster. You can order a dumpster from local trash disposal providers. Be sure you ask for a dumpster for roofing tiles and ask whether you can mix the roofing tiles with other constructions debris. Contact the provider when the dumpster is full and they will retrieve it and dump the contents for a fee.
If you have not used a commercial dumpster, dispose of the roofing shingles as instructed by your local building inspector. Be sure to not overload disposal bags or they will be too heavy to lift and may rip. Take the shingles to the designated landfill location. Be aware that there may be more than one landfill in the area and each one may accept only certain refuse, so be sure you verify the correct location before hauling the shingles there.
Things You Will Need

Construction dumpster and removal service