Spray Method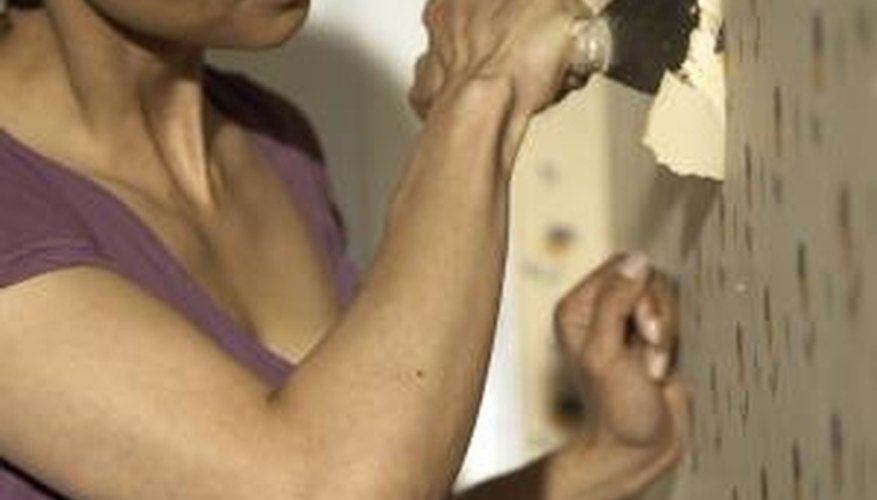 Sheetrock, a brand name of drywall panel manufactured by USG Corporation, provides an optimal surface for hanging wallpaper, but if the original paper-hanger did not apply sizing to the wall, the old wallpaper may be difficult to strip away. Try a conservative approach first, and if that doesn't work, you'll need to rent a wallpaper steamer. In either case, you may end up patching gouge marks in the Sheetrock panel after the wallpaper is gone.
Attach a plastic drop cloth with an adhesive edge to the top of baseboard and roll the plastic out to protect your floor from water damage.
Rub a wallpaper scoring tool over a small section of wallpaper in one corner of the wall. The scoring tool cuts through the top layer of the old wallpaper without cutting into the Sheetrock beneath.
Mix 1 cup of liquid fabric softener in 1 gallon of hot water and fill a hand-held pump sprayer with the liquid.
Spray the scored section of the wallpaper with the water/fabric softener solution, saturating the paper thoroughly.
Wait 15 minutes and peel up a corner of the wallpaper. If it comes off easily, you're in luck. But more likely, you'll have to peel a little off, spray a little more, wait and then peel again.
Scrape away the wet undercoat of wallpaper with a 10-inch drywall trowel. Hold the trowel blade flat against the wall to reduce gouging.
Continue scoring and spraying the wallpaper in larger sections if you're able to remove it with this method.
Steam it Off
Score the old wallpaper with the wallpaper scoring tool and fill the tank of a wallpaper steamer with water as directed by the manufacturer.
Place a large baking dish on the floor to hold the hot steamer plate when not in use.
Work in a 3-foot area at a time. Turn on the wallpaper steamer and place the steam plate on the wallpaper, starting in one corner and moving the steamer slowly over the paper.
Set the steamer in the baking dish and peel and scrape away the loosened paper. It helps to have an assistant for this step. One of you can operate the steamer while the other one peels and scrapes away the paper.
Things You Will Need

Plastic drop cloth with adhesive edge
Hand-held pump sprayer
Hot water
Liquid fabric softener
Wallpaper scraper
Wallpaper scoring tool
Wallpaper steamer
Large baking dish
Tips
Wash residual glue from the walls with a wet sponge.

Skim-coat the Sheetrock, if necessary, with drywall compound to fill gouges and nail holes before painting.