How to Clean a Comforter With Wool Batting
A comforter with wool batting can keep you warm in cold weather without excessive heaviness. A wool comforter can also keep your comfortable during the summer because the natural wool fibers regulate to your body temperature, according to Organic.org. The challenge with wool comes when it is time to clean the comforter. If you agitate the wool during the washing process, you can damage the fibers and cause them to shrink. Handle the comforter gently to avoid agitation and the wool will retain its size and shape.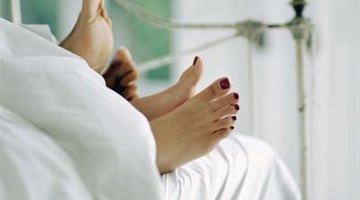 Step 1
Fill the washing machine with cool or warm water, setting the level so the water will completely cover the comforter. Add the laundry detergent to the water and allow the machine to agitate the water and laundry detergent for about one minute to mix the detergent into the water. Then, turn the washing machine off to stop the agitation.
Step 2
Place the comforter into the washing machine and push the comforter beneath the water.
Step 3
Allow the comforter to sit in the water without agitating. Leave the comforter soaking in the water for 10 minutes.
Step 4
Advance the washing machine to a gentle spin cycle and empty the water from the washing machine.
Step 5
Fill the washing machine again to rinse the comforter. Allow the comforter to soak in the rinse water for about five minutes and then advance the washing machine to the gentle spin cycle to remove all the water.
Step 6
Remove the comforter from the washing machine and lay the comforter flat to dry. A large carpeted area where the comforter can dry undisturbed is ideal.
Step 7
Use a warm iron to remove wrinkles after the comforter dries, if you desire.
References
Tips
Alternatively, you can also hand wash the comforter in the bathtub or a laundry tub. Do not agitate the comforter as you wash it, but rather allow it to soak and then drain the tub. Fill the tub again to rinse the comforter and then drain the water once again. Dry the comforter flat.
Writer Bio
Kathryn Hatter is a veteran home-school educator, as well as an accomplished gardener, quilter, crocheter, cook, decorator and digital graphics creator. As a regular contributor to Natural News, many of Hatter's Internet publications focus on natural health and parenting. Hatter has also had publication on home improvement websites such as Redbeacon.
Photo Credits
Nick White/Digital Vision/Getty Images
More Articles