How to Sand Pressure Treated Lumber
Pressure treated lumber is wood treated with chemicals that keep it from deteriorating. It is used when a structure's framing must touch soil, water or concrete. It has a blue-green tint and a distinct chemical odor. The chemicals used to treat lumber are toxic, so you must take safety precautions to protect yourself and anyone around you when cutting or sanding pressure treated lumber. Always wear a protective dust mask, goggles and gloves, as well as long sleeves and pants.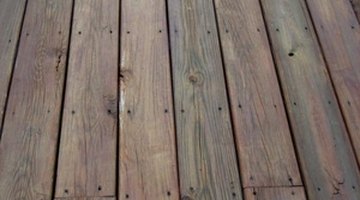 Spread the drop cloth outside and away from people, play areas and gardens.

Put on goggles, dust mask, protective clothing and gloves.

Move the lumber to be sanded onto the drop cloth. Sand to the desired smoothness with the sandpaper or sander.

Set the sanded lumber aside, fold the drop cloth and either put it in the trash bag for disposal or bury it.
Writer Bio
Robert C. Young began writing professionally in 1989 as a copywriter for an advertising specialty company. From 2000 to 2007 he operated a real-estate development and construction company. His work has been published online at SFGate and various other websites. He graduated with a Bachelor of Business Administration in economics from Georgia State University.
Photo Credits
More Articles