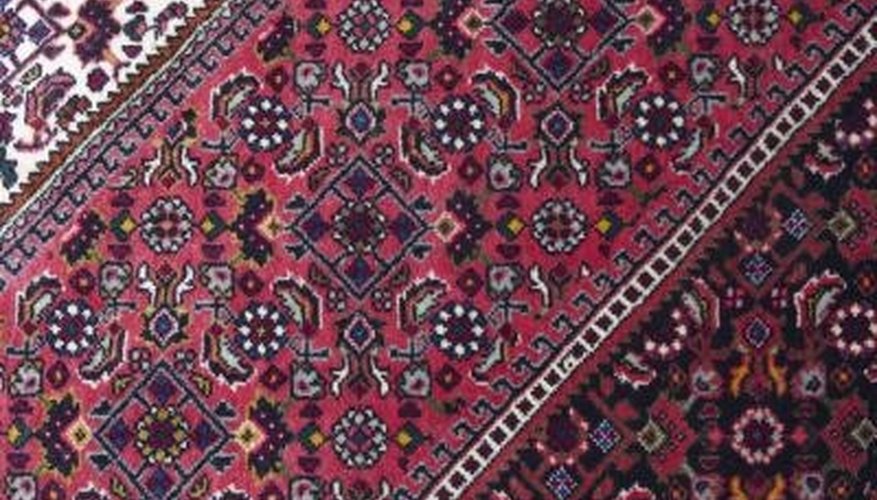 Distinctive and beautiful, they are an expensive investment and should be treated with the care they deserve. Like all home fittings, oriental rugs are routinely exposed to dust, dander, stains and spills. Even in the most cautious household, oriental rugs require annual cleaning to preserve their quality. While this can be done by professionals, it also can be done at home, though care must be taken during the cleaning process to avoid inadvertently damaging the rug.
Take area rugs outdoors and give them a vigorous shake to remove loose dirt, hair, sand or grit.
Vacuum the rug with a plain vacuum nozzle. Use smooth, broad strokes to work your way from the top to the bottom. Flip the rug over and vacuum the back in a similar manner.
Check the tag on the rug. If the carpet in question is made from 100 percent silk, any further cleaning must be done by professionals. Cotton, wool and fiber-blend rugs can be spot treated carefully and washed by hand.
Mix 1 tsp. of mild, liquid dish washing soap into 1 cup of cold water. Beat the solution vigorously with a fork, until soap suds begin to form. Apply this mixture to any heavily soiled areas or stains with a soft cloth. Place pressure on the cloth and hold it securely against the stain for 30 seconds. Use a paper towel to soak up any extra moisture. Repeat, until the soil is no longer evident.
Move the rug to an area that will not be affected by running water, such as a driveway or patio. If this is not possible, create a workstation by covering a large portion of the floor with a layer of plastic trash bags. Cover the bags with a layer of absorbent towels, then spread the rug evenly across the top.
Pour ¼ cup of baby shampoo into a large bowl or bucket. Add 1 gallon of cold water and stir well. Apply the dilute shampoo to the rug with a soft-bristled scrub brush. Move the brush in one direction only, using long, steady strokes that work with the nap of the carpet.
Blot the surface of the rug with a large towel to soak up any excess water.
Leave the rug to dry. When the surface feels dry to the touch, flip it over. Odds are good that the back is still damp. Return the rug to its previous position when it is totally dry.
Things You Will Need

Vacuum cleaner
1 tsp. mild, liquid dish washing soap
¼ cup baby shampoo
Soft-bristled brush
Sponge
Towel