How to Repair an Astra Espresso Machine
Made in the USA, Astra espresso machines have been competing against their more well known Italian counterparts since 1993 (See Reference 1). Since its inception, Astra has arguably surpassed its European competitors and won numerous awards celebrating its engineering prowess, aesthetics and simplicity of design (See Reference 1). Astra espresso machines rarely have maintenance issues but when they do break or need repairs, most problems are very basic and can be repaired by the average user of the machine (See Reference 1).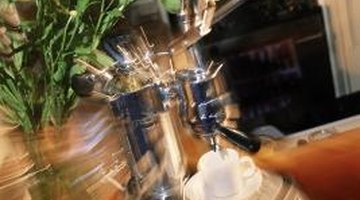 Step 1
Diagnose the problem with your Astra espresso machine. Pay attention to any strange noises, changes in taste or a complete malfunction of the machine. Check all valves, steamers, knobs or other moving parts that are susceptible to breaking down.
Step 2
Obtain all necessary replacement parts. Once you have determined what is not working, you'll have to buy a new part. Often, these cost little and are easy to find. You can order directly from the factory on the Astra website or even find many of the parts in a hardware or plumbing store (See Reference 1). If parts are unavailable from the factory or out of stock in a local store, there are many online suppliers of materials, which have a large selection of Astra parts (See Reference 2).
Step 3
Make all repairs on your own once you receive the replacement parts. Utilize the user's manual or any instructions that come with the parts as a guide.
Step 4
Contact an expert if the repairs are too complicated or if you are not comfortable doing them on your own. Many espresso machine dealers offer repair services. Contact one in your area and ask about their experiences working with Astra machines. If your machine is still under warranty, you can return it to the Astra factory for all necessary repairs. Contact the customer service department for details.
References
Writer Bio
Holden Reilly began writing professionally in 2010. His writing has been published on websites such as eHow and Answerbag. Originally from a small town in the Midwest, Reilly now resides in Northern California. He holds a Bachelor of Arts degree in English from the College of the Holy Cross.
Photo Credits
Jupiterimages/Photos.com/Getty Images
More Articles