How to Apply Linseed Oil to Polyurethane Finish
Linseed oil and polyurethane are both popular wood finishes. Linseed oil is pressed from flax seeds, while polyurethane is a petroleum-based product. Both produce a high gloss finish on wood and are somewhat porous. Boiled linseed oil is more often used as an undercoat finish on wood as it conditions the wood while a top coat functions to seal in the moisture. However, linseed oil can be used as a top coat with polyurethane in a process known as a "French Polish" where it functions as a padding lacquer to apply a new finish over an old one.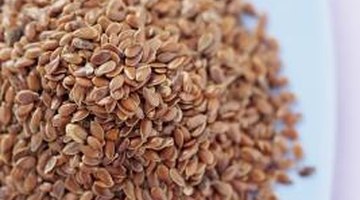 Check that the polyurethane finish has not been heated and is not tacky to the touch.

Roll a soft, clean cotton cloth into a pad that will fit into your fist. Remove any loose threads or pilling from the pad.

Soak the bottom part of the pad in boiled linseed oil. Saturate pad with linseed oil but don't let it drip.

Apply the pad to the wood surface, using a rocking motion of your hand and wrist. Apply more linseed oil to the pad, and stroke the wood surface until the entire surface has been polished with the boiled linseed oil. Let the linseed oil dry for 24 hours.

Repeat the entire application process four more times, letting the wood dry for 24 hours in between each boiled linseed oil application. Polish the wood surface to a high shine with a dry, clean cotton cloth.
References
Warnings
Make sure that the linseed oil that you use is boiled. Raw linseed oil does not dry or soak into the wood surface; it leaves a gummy residue behind.
Writer Bio
Mary McNally has been writing and editing for over 13 years, including publications at Cornell University Press, Larson Publications and College Athletic Magazines. McNally also wrote and edited career and computer materials for Stanford University and Ithaca College. She holds a master's degree in career development from John F. Kennedy University and a bachelor's degree from Cornell University in counseling.
Photo Credits
Jupiterimages/Brand X Pictures/Getty Images
More Articles