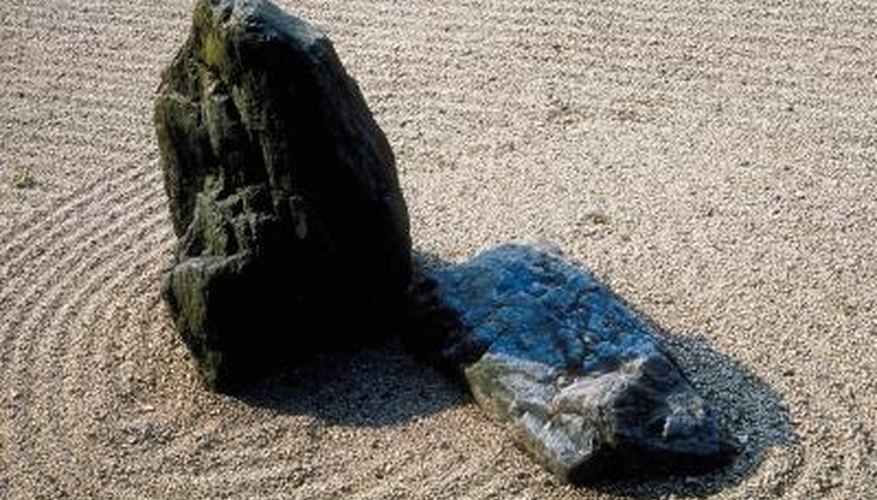 Regardless of the size, the Zen sand garden requires your imagination to create its tranquility. The Japanese Zen sand garden, known as karesansui, represents the serenity of moving water with raked lines in the sand. With the ever-shifting waves of a body of water as your guide, no raked pattern in your Zen sand garden will be wrong.
Purchase a Zen sand rake. This particular rake uses four wooden dowels for prongs, is made entirely out of wood and the head is rounded to use for smoothing the sand. If you don't want to spend money on a Zen sand rake, substitute with a regular rake and a broom or hoe for smoothing. To create less-cramped patterns, bend back every other prong on the rake.
Smooth the sand to create with a fresh canvas. Use the rounded side of the Zen sand rake to smooth out any humps or lines in the sand. If you only have a broom or hoe, brush the sand lightly, and don't dig into the sand. Remember to smooth around any rocks, trees or statuary displayed in the sand.
Clear you mind. Creating, as well as looking at, a Zen sand garden should evoke a peaceful state of mind. Zen sand raking is not a chore on a to-do list. Zen gardening should be your time alone to express your creativity and relax your mind and body.
Begin raking. Pull the rake gently across the surface of the sand. Press hard enough to create grooves, but do not dig deeply into the sand. For large gardens, step into the garden and work from the back to the front, smoothing out your footprints as you work. Use straight or curving motions. Fill the entire sand garden with rake strokes or leave portions of it blank. Rake around rocks or other objects in a circle to create ripple-like effects, giving the appearance that you just tossed a stone into the water. Create circles by twirling the rake.
Things You Will Need

Zen sand rake
Broom (optional)
Hoe (optional)