Homemade Primitive Projects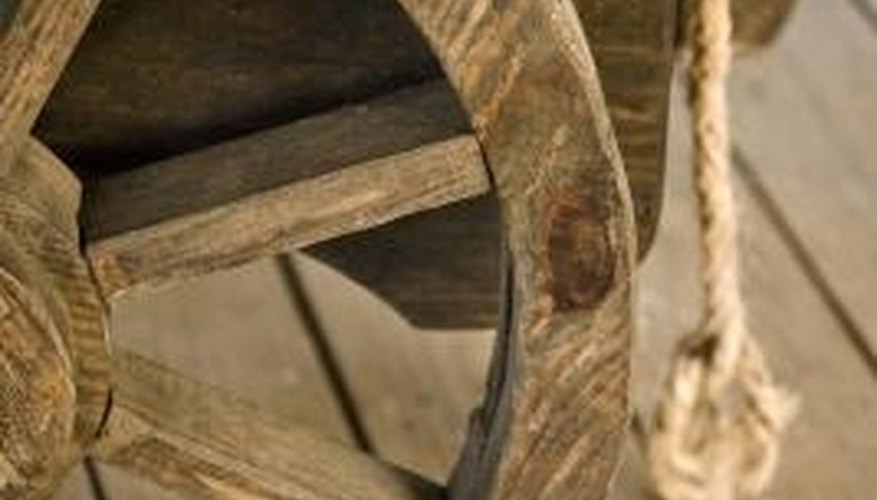 Primitive style was born from the people that made their own furniture, clothing, candles, toys, quilts, curtains, and who grew their own food. People used what was available to make what the rich could afford to buy. Clothing was old and stained and eventually wound up a rag doll or a quilt. Many households had furniture that was homemade. Today, we call it folk art or primitive because it was handmade by farmers, school teachers and fishermen for the home and not manufactured for sale.
Produce primitive fabric by soaking it in boiling water with two to three tablespoons of instant coffee or tea. Cover the material completely or leave it in the water for a minute or two for darker colors. The result will be a stained look, giving an appearance of aging to the material. It works well with cotton. Make rabbits, dolls or curtains from the aged material.
Distress wood furniture to make it look primitive. For instance, use a plain coffee table by stripping the stain off with a chemical stain remover. Sand any remaining stain for a clean finish.
Paint the table muted brown, blue, green or red. Let the paint dry. Use furniture that fits the primitive style --- plain wood, no ornamental hardware or carvings. If you distress a dresser, consider replacing the hardware with wood handles or tarnished brass.
Use sandpaper to rub off some of the paint. Start around the edges. Rub around the top edges and down the legs. Rub across the table surface. You determine how much sanding you want. Keep in mind that primitive furniture distresses unevenly. Don't rub off paint unilaterally. Allow for more removal in one area than another. If you do not like the plain color of the wood underneath, choose another color and paint the piece, let it dry and paint a second coat with a different color.
Make a lamp from an old yarn spool. Check antique stores for one that is at least one foot tall. Pick up a lamp kit at a craft store. Make a cloth lamp shade from the coffee-stained material and hot glue it around a wire frame. Leave the spool plain.
Create metal pins and bells for crafts by rusting them. Mix one cup cider vinegar, 3 tsp. salt and one cup bleach in a large jar. Place the bells and pins in the mixture for two days. Keep in a ventilated area. If it foams, remove the foam. Remove the items with a slotted spoon and place on a cardboard sheet lined with a cloth. Place the items outside in the sun for two days. Shake the tray occasionally so the items are well covered. After the items have rusted, wipe them with a dry cloth. They are ready to use on any primitive craft design.
Things You Will Need

Cloth
Coffee
Tablespoon
Pattern
Wood furniture
Paint
Brush
Sandpaper, light
Yarn spool
Lighting kit
Wire
Material
Chemical stain remover