How to Install a Smoke Detector in the Bedroom
Home fire detectors protect you and your family while you sleep. During a fire, smoke inhalation causes you to sleep more deeply rather than waking you up. A smoke detector, which senses smoke and heat, will wake you up before smoke inhalation becomes a problem and alert you to danger. A smoke detector in the bedroom is essential because it alerts you when you are least likely to notice a blaze.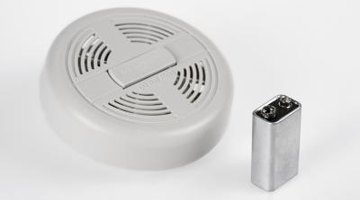 Select a location in the bedroom for the smoke alarm. Each bedroom should have a smoke alarm, especially if you keep the doors closed. The smoke alarm should be high on the wall or on the ceiling, at least 6 inches from where the ceiling and wall meet.

Place batteries in the new smoke detector.

Affix the adhesive strips to the base of the smoke detector. Most smoke detectors come with adhesive strips, but if yours does not, you can purchase double-sided general purpose adhesive strips from the hardware store for this purpose.

Climb the ladder underneath the location where you want to place the smoke detector.

Press the adhesive strips to the spot you have chosen. After holding it there for a few moments, it will stick.

Test the smoke detector by pressing the "test" button." This causes the smoke detector to emit a loud alarm and it verifies that it is working.
References
Tips
Consider getting a local electrician to install an interconnected smoke alarm system in your home, as this will cause all the fire alarms to go off when one does.
While some home detectors come with screws, avoid using them as they can cause cracks in your ceiling or wall.
Photo Credits
Jupiterimages/Polka Dot/Getty Images
More Articles