How to Create a Decorative Surfboard for a Nursery
Create a decorative surfboard to accent your baby's surf-themed nursery. Making your own board allows you to control the size, style, shape, colors and decorations so they match with the nursery decor perfectly. Your decorative surfboard can hang on the nursery walls, stand in a corner, sit on a shelf or do double-duty if you add pegs or hooks to it. The materials you use depends on how you plan to use the decorative surfboard, your craftiness and experience.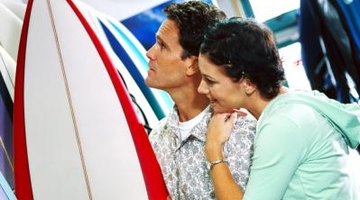 Draw the outline of your surfboard onto thick cardboard or thin plywood. Use a stencil or a real surfboard to get the shape right if you aren't confident in your artistic abilities. Cardboard is a good option if you plan to hang the board on the wall, while wood is sturdier and can withstand more abuse.

Cut the surfboard shape out. Use a utility knife for cardboard or a saw for plywood. A jigsaw allows you total control. Most hardwood stores will cut the wood for you or rent out power tools if you want to use plywood but don't have a saw. Using a saw requires a sturdy place to set the wood up, such as balancing the wood on two sawhorses.

Sand the wood, especially the edges, with sandpaper if you're using plywood. This gives you a smooth surface to paint, without causing splinters or irregularities.

Paint the decorative surfboard with craft paints or no-VOC (volatile organic compounds) paint, so it's safe for the baby's room. Bright colors, such as blue, red or yellow, are solid choices. However, the colors and images you paint on the board should complement the other colors in the nursery. Personalize the board with your baby's name or initials if you want.

Add stickers, peel-and-stick decals or other embellishments to further decorate the board. Hibiscus flowers, seashells or stripes going down the center of the board are some common images found on surfboards. Be careful to not use anything that can easily come off the surfboard and pose a choking hazard for baby, if the board is not going to be hanging on a wall out of reach.
References
Tips
Allow your decorative surfboard to completely dry before putting it in the baby's room to avoid smudges or toxins.
Repaint the board later to go with any ocean or surfing theme, even if the colors change.
Writer Bio
Janece Bass is a freelance writer specializing in weddings, family, health, parenting, relationships, dating, decorating, travel, music and sports. She has been writing for more than 15 years and has numerous published pieces on various websites and blogs. Bass has also ghostwritten various fiction-based novels.
Photo Credits
George Doyle/Stockbyte/Getty Images
More Articles