How to Create Your Own Tudor-Style Window Grids
Many people have a Tudor-style house but not Tudor-style windows. The traditional Tudor-style window appearance includes diamond-shaped leaded window panes. To custom-build authentic Tudor leaded windows is quite expensive and well beyond what most people want to pay. Luckily, faux Tudor leaded windows have been around for a long time. It's a simple enough project for you to purchase a kit and transform your existing windows into Tudor-style ones at a price that won't break the bank.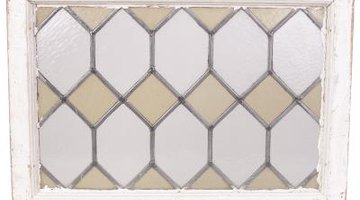 Step 1
Purchase a leaded tape kit that includes scale paper patterns of Tudor-style window grilles. If the kit pattern is not full size, you will need to enlarge the pattern at a local photocopier store and print it out on large-format paper.
Step 2
Clean the inside of the window with soap and water, followed by a glass cleaner. Dry the window with coffee filters so that no lint is left on the window.
Step 3
Tape the pattern to the outside of the window and fit the pattern exactly the way you want the leading to look.
Step 4
Use an artist's knife to cut the edge of the lead tape to the angle you need. Remove the backing paper and press the lead tape to the lines of the pattern. Where one tape crosses over another, cut across the diagonal, and remove the extra pieces of lead so that you create a tight mitered seam. Use a ruler or small straightedge to keep the tape very straight.
Step 5
Roll over the fresh tape with a hard roller or boning tools to make sure the tape adheres well. To create an authentic look, go to the outside of the window and clean and tape that window to match the inside leading. You can use your pattern many times, and enlarge and reduce the pattern for odd-sized windows. Look at Tudor home photos for ideas on how to adjust the pattern for the best appearance.
References
Writer Bio
F.R.R. Mallory has been published since 1996, writing books, short stories, articles and essays. She has worked as an architect, restored cars, designed clothing, renovated homes and makes crafts. She is a graduate of the University of California at Berkeley with bachelor's degrees in psychology and English. Her fiction short story "Black Ice" recently won a National Space Society contest.
Photo Credits
Hemera Technologies/PhotoObjects.net/Getty Images
More Articles