Instructions for the Genie Model GR390-12 Receiver
The Genie GR 390-12, or Genie Receiver 390 12-switch, is the part of a garage door opener that receives wireless signals from Genie 12-switch remotes and keypads. It consists of a small receiver box with three wires attached to it. These receivers are used by Genie screw drive units Pro 88-S, Pro 98-S and Pro 90-S. They are called 12-switch receivers because of the set of 12 tiny switches used to set the fixed code signal that opens and closes the garage door. The GR 390-12 is a replaceable part if it malfunctions.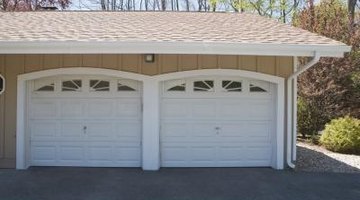 Unplug the Genie garage door opener. Remove the lens cover that covers the light bulbs. Note the six screws labeled one through six. Remove the white wire with the U-shaped connector from screw one. Leave the other wire on screw one. Remove the black wire from screw two and the red wire from screw three. There shouldn't be any other wires on screws two and three.

Remove the screws that hold the GR 390-12 receiver box to the garage framing. Mount the new receiver box in the same spot.

Slide the white U-shaped wire connector around screw one. Slide the black wire connector around screw two and the red wire connector around screw three. Tighten all three screws to secure the wires.

Open the cover of the receiver box by squeezing the two long sides of the box casing. Slide the small 12 switches either up or down with the screwdriver so they match the 12 switches found inside the remote control. Plug your garage door opener back in.
References
"Level 2 Support Guide"; AC Clutch Model Screw Drive External Radio; Feb. 16, 2009
Warnings
A GR 390-12 will not work on a Genie unit that didn't come with one. It also will not work on any other brand of garage door opener.
Writer Bio
Elizabeth Warner began writing professionally in 2004 for "The Scroll," an award winning collegiate newspaper. She currently works with the technical writers at The Overhead Door Corporation. She holds a Bachelor of Science in English with an emphasis in technical writing and editing from Brigham Young University-Idaho.
Photo Credits
Thinkstock Images/Comstock/Getty Images
More Articles