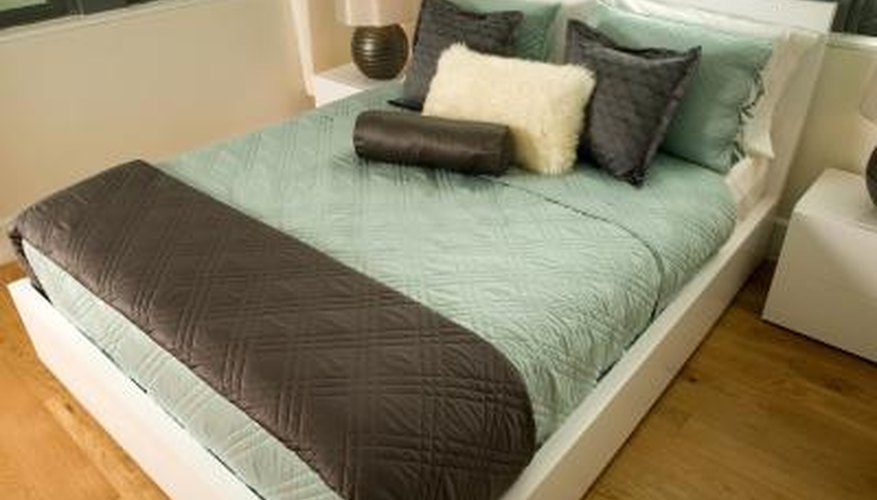 The simple shape allows the frugal homeowner to build the bed frame while the firm platform base comforts his aching back. You can easily adjust a do-it-yourself platform bed to fit any size mattress. If you need a custom-size bed to fit an extra small or odd-shaped room, extra-firm foam for a mattress is available at your local fabric store and online. Building your own platform bed is a one-weekend project.
Step 1
Measure your mattress. Standard U.S. sizes are: California King - 72-by-84 inches, King - 76-by-80 inches, Queen - 60-by-80 inches, Full - 54-by-75 inches and Twin - 39-by-75 inches. For the purposes of this article, a queen-size mattress is used for the platform bed.
Step 2
Cut two 2-by-6-boards to 58 inches long. Cut two more boards to 81 inches long. Lightly sand all edges to smooth any rough spots.
Step 3
Measure 1 inch down on the inside of the boards and mark with a pencil.
Step 4
Cut two 2-by-2 boards to 58 inches long and two to 75 inches long. Align the top of the 58-inch board to the top of pencil line on the 58-inch, 2-by-6 board. Pre-drill and screw together, using the 2 1/2-inch screws. Center the 75-inch board on the 81-inch, 2-by-6 board, aligning to the top of the pencil line. Again, pre-drill and screw together.
Step 5
Lay the boards in a rectangle, butting the pieces together in the corners and carefully aligning the tops. The 58-inch boards fit inside the 81-inch boards. Pre-drill two holes in the sides of the 81-inch boards and into the ends of the 58-inch boards, 1 1/2 inches from the top and bottom. Use the lag screws to screw the frame together.
Step 6
Cut the plywood panels to 29-by-78 inches. Lay side by side inside the top of the frame. Pre-drill and screw down to the 2-by-2 boards, using the 1 1/2-inch screws.
Step 7
Cut the remaining 2-by-6-inch boards, two at 58 inches and two at 78 inches. Lay in a rectangle with the 58-inch boards inside the 78-inch sides, tops aligned and ends butted together. Pre-drill and screw together, using the lag screws. Screw an "L" bracket into each corner, using the 1 1/2-inch deck screws. Smooth any rough edges with sandpaper.
Step 8
Place the smaller rectangle in position in the bedroom, 2 inches from the wall. With a helper, lift the top of the platform bed onto the base, with the inner 2-by-2 supports resting on top of the 2-by-6 base.
Step 9
Place the mattress on the platform and make the bed.
Things You Will Need

Measuring tape
Pencil
8 2-by-6-inch boards, 8 feet long
4 2-by-2-inch boards. 8 feet long
2 sheets 1-inch plywood, 4-by-8-feet
16 lag screws, 4-inch
Deck screws, 2 1/2-inch
Deck screws, 1 1/2-inch
4 "L" brackets
Saw
Drill
Socket set
Sandpaper, fine-grit