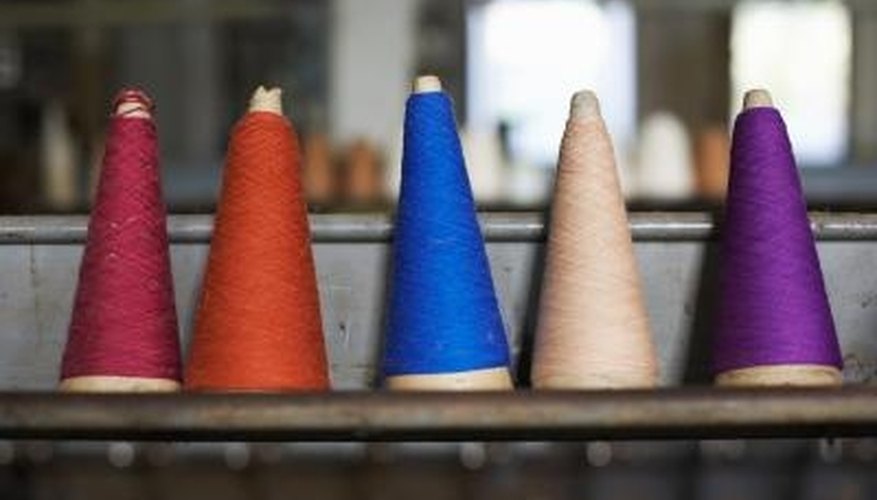 They consist of a dowel that holds the cone, and another dowel that holds an eye-hook above the cone to feed the thread through. The thread is then grabbed by a sewing machine and wrapped around a smaller spool that is used in the machine. Cone thread stands are simple in design and easy to build for even the amateur wood worker. A stand like this can be built in minutes spent at a workbench.
Drill a 1/2-inch-deep 1/4-inch hole in the center of the board. The center of the board should be 2 ½ inches away from each edge. Glue the 1/4-inch dowel in the hole. This will hold your cone thread spool.
Drill a 1/2-inch-deep 1/2-inch hole that is 1 inch away from two edges that meet at a corner. This hole will be close to one of the corners. It does not matter which corner it is close to. Glue the 1/2-inch wide, 15-inch long dowel in this hole.
Screw the eye-hook into the 15-inch dowel so it is 1/4-inch away from the top of the dowel, opposite the end glued in the board. The eye-hook is at a right angle to the dowel, the hole in the dowel is parallel with both dowels and hovers over the board.
Set your cone thread spool on the 1/4-inch dowel and feed the thread through the eye-hook.
Things You Will Need

Tape measure
Oak board, 1-by-5-by-5-inches
Oak dowel, 1/4-by-6-inches
Oak dowel, 1/2-by-15-inches
Drill
Drill bit, 1/4-inch
Drill bit, 1/2-inch
Wood glue
Eye hook, 1/8-inch