How to Troubleshoot FlavorWave Turbo
The FlavorWave Turbo, created by Thane, uses convection, halogen and infrared heating to cook food much faster than a traditional oven. While the FlavorWave Turbo should work right out of the box, problems can occur just like with any other electrical device. It might not have any power or it could have an odd burning smell, among other things. Troubleshoot the oven to figure out what's wrong, so you can get it cooking again.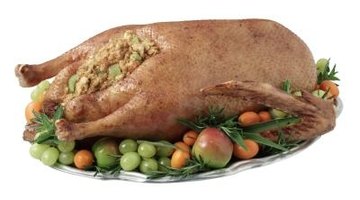 Check the FlavorWave Turbo power cord, if the unit isn't turning on. Make sure that it is connected from the Turbo to the electrical wall outlet. Inspect the cord to make sure that it isn't frayed or broken.

Turn the timer knob at the front of the FlavorWave oven clockwise, until it's pointing to 60. Turn it back to the desired time. This should restart the unit, if it was stuck, according to the official website. If not, the power issues may be from something else.

Push the carry handle down. When the handle is left up, the FlavorWave oven won't turn on. Make sure it's down all the way, before you start cooking.

Check the temperature gauge, if the oven doesn't seem hot enough. The FlavorWave Turbo can cook food between 150 and 500 degrees Fahrenheit. Consult the food's directions to find the correct temperature setting for your meal. Move the temperature gauge to this setting and your Turbo should heat up.

Ignore a burning smell if you're using the FlavorWave Turbo for the first time. According to the official website, the oven will give off a faint burning smell when you first turn it on. If it continues to give off this smell after multiple uses, even if the unit is clean and free of debris, contact the manufacturer.
References
Tips
If you can't figure out what's wrong with your FlavorWave Turbo, call the manufacturer at 888-721-4097.
Warnings
Don't perform any complicated electrical troubleshooting, without the help of a professional technician.
Writer Bio
Trisha Bartle began her writing career in 2007, with work appearing in publications such as "Adventures for the Average Woman" and DexKnows Weddings. She has also been a professional wedding photographer since 2001. Bartle holds an Associate of Applied Science in programming and game development.
Photo Credits
Brand X Pictures/Brand X Pictures/Getty Images
More Articles