How to Line a Lampshade With Styrene
Styrene is a flexible material used to line the inside of lampshades. It is typically used when initially making a lampshade. However, you can also replace torn, discolored or worn-out styrene on an existing lampshade. Pressure sensitive, also called self-stick, or plain styrene can be found in most craft stores. Ready-to-use styrene, with fabric already attached, is also available. Lining a lampshade with styrene results in a finished and professional look.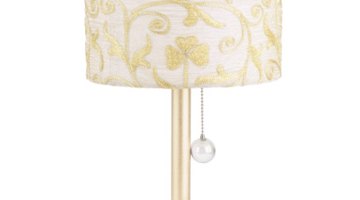 Step 1
Lie one side of your lampshade frame or completed lampshade on top of the styrene. Trace the lampshade's shape onto the styrene and cut out the shape.
Step 2
Remove the backing from the styrene and press it to the inside of your lampshade or the back side of the fabric if you are using self-stick styrene. If you are using plain styrene, use fabric glue or a hot glue gun for application.
Step 3
Cut the fabric around the styrene if you are making a new lampshade. Trim any excess styrene if you are lining an existing lampshade.
Step 4
Secure the styrene with clothespins, and allow it to dry for 20 minutes. If you are making a new lampshade, delay this step until you have attached the fabric and styrene to the frame.
References
Writer Bio
Kayla Ledford has been writing professionally since 2004. Her work has been published in "Tulle Magazine," the "Overton County News" and on various websites. Ledford holds a Bachelor of Arts in communication, with a concentration in journalism, from Tennessee Technological University.
Photo Credits
PhotoObjects.net/PhotoObjects.net/Getty Images
More Articles