How to Anchor a Dishwasher to the Side of Cabinets
Although dishwashers typically attach to the underside of a kitchen counter, it's sometimes impractical to top-mount a dishwasher, particularly if you're working beneath a solid granite countertop. To allow installers to attach dishwashers to the sides of adjacent cabinetry, appliance manufacturers offer side-mounting kits for all dishwasher models. If a kit for your dishwasher is not available at the time of purchase, you can request side-mounting hardware directly from your appliance manufacturer.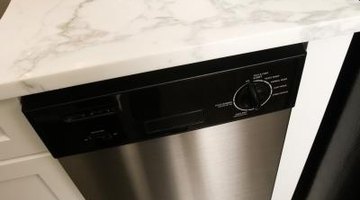 Measure the height of the dishwasher's opening. Roll the dishwasher in front of the opening. Place a level on top of the dishwasher, check for level and twist the dishwasher's rear legs to adjust the dishwasher's height.

Remove the side-mount clips from the hardware kit. Insert the clips into the dishwasher's side slots with the clips' screw holes facing up. Clean debris from the dishwasher's opening with a broom.

Slide the dishwasher into the opening. Watch the sides and top of the dishwasher as you push it to avoid to damaging the cabinets and countertop. Raise or lower the dishwasher's front legs or leveling knobs to level the front of the dishwasher with the countertop and provide adequate clearance for the door. Dishwasher door's typically require 5/16 to 3/8 inch clearance.

Open the dishwasher door. Remove the dishwasher's tub gasket from the perimeter of the dishwasher's body. Attach a twist bit to the power drill. Choose a bit roughly the same diameter as the smooth portion of the mounting screw's shank. The smooth portion of the screw's shank does not include the screw's threads. Use the power drill to pre-drill a starter hole through the cabinet at each of the mounting clips' screw holes.

Attach a driver bit to the power drill. Remove the mounting screws from the hardware kit. Mount a screw onto the driver bit. Insert the screw through one of the clip's screw holes. Place the screw's tip into the pre-drilled starter hole. Use the power drill to drive the screw into the wood.

Drive the screw until the screw's head secures the mounting clip to the side of the cabinet. Drive screws into the remaining mounting clip screw holes to fully anchor the dishwasher to the cabinets' sides. Replace the dishwasher's tub gasket.
Tips
Remember to connect the water supply, electrical connection and drain lines prior to sliding the dishwasher into its opening.
Writer Bio
Based in Hawaii, Shane Grey began writing professionally in 2004. He draws on his construction experience to write instructional home and garden articles. In addition to freelance work, Grey has held a position as an in-house copywriter for an online retailer. He holds a Bachelor of Arts in theater arts from Humboldt State University.
Photo Credits
Jupiterimages/Photos.com/Getty Images
More Articles