Badger 10S Garbage Disposal Troubleshooting
The InSinkErator line of residential garbage disposals is produced by Wisconsin-based Emerson. The InSinkErator is sold under brand names Badger and Contractor. The 10S is a garbage disposal for residential use sold under the Badger name. Temporary motor failures may be caused by jammed food, and unpleasant odors in the disposal are caused by food-particle accumulation.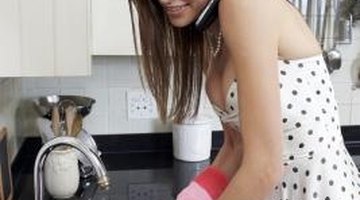 Insert the drain stopper into the sink and fill with 4 to 5 gallons of warm water if an odor emits from the garbage disposal. Pour 1/4 cup of baking soda into the water and agitate to dissolve. Remove the drain stopper and quickly activate the garbage disposal. Allow the garbage disposal to run for the duration of the sink draining before turning off.

Turn off garbage disposal and running water if the motor fails to run or stops running during use. Access the exterior bottom of the disposal and push the short end of the Badger wrench into the hole at the bottom of the disposal. Wiggle the wrench back and forth several times to loosen jam, then turn wrench one full turn within the hole. Reach into the interior of the garbage disposal using a long-handled pair of tongs and remove the item that caused the jam. Allow the unit to sit undisturbed for five minutes, then depress the red button on the bottom exterior of the disposal to reset.

Verify that the circuit panel supplying power to the garbage disposal does not have a blown fuse or tripped breaker if the motor failure persists and no jam is evident.
Writer Bio
Connecticut-based Stacy Morgan began writing for eHow in 2009. Morgan graduated from the Porter and Chester Institute of Technology with a certification in architectural drafting.
Photo Credits
Goodshoot RF/Goodshoot/Getty Images
More Articles