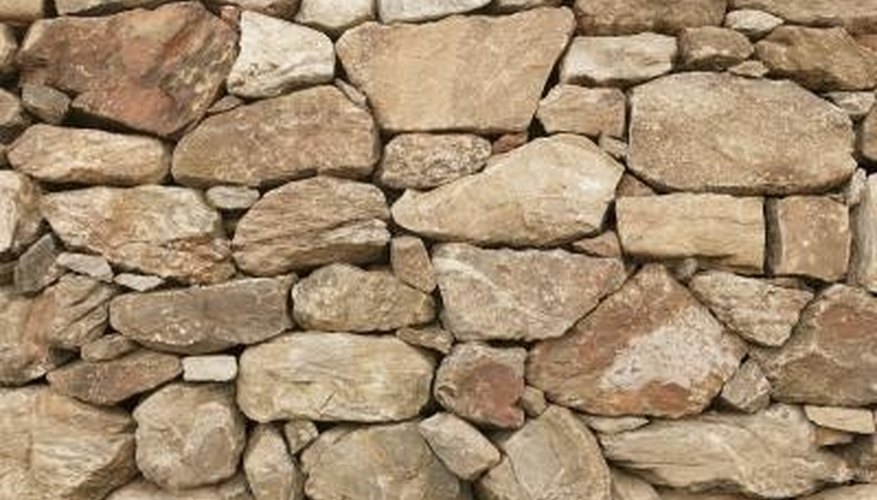 A lightweight material with enhanced durability combined with a price that is generally less than actual stone, cultured stone can be used for exterior as well as interior installations. Unlike natural stones that require specialized methods, tools and experienced to install, any do-it-yourselfer with the proper tools and resources can install cultured stone and enhance any interior wall in their home.
Prepare your installation area prior to installing the cultured stone. Measure the wall area and cut your wire mesh to fit. The wire mesh does not need to overlap, and if you need to span a wall with more than one piece, the pieces can butt up against one another. Cut the mesh with tin snips. Install the wire mesh by stapling it to the wall with the staple gun, stapling every 4 to 6 inches.
Cover the entire wire mesh surface in a layer of mastic prior to installing your cultured stone. Use the flat trowel to spread the mastic onto the wall's surface. Apply pressure as you apply the mastic, ensuring that the mastic covers all of the voids between and behind the wire mesh and bonds adequately with the substrate surface beneath the wire mesh. Allow this "skim coat" to dry at least 24 hours before installing your cultured stone.
Install your cultured stone by starting at the bottom and working your way up. Cultured stone is varied in size, so you can place the pieces at random depending on your personal preference. Apply mastic to the back of each piece with your mason trowel, and press the piece of cultured stone onto the wall's surface. Repeat this process for every piece of cultured stone as you work your way up the wall.
Adjust the amount of mastic per piece as necessary. The goal is to have enough mastic that there is a little extra that oozes out from behind each piece when you apply pressure, but not enough to squeeze out of the joints between each piece of stone.
Cut any of the required pieces on the tile wet saw. Measure the size of each cut with a tape measure and mark it with a pencil before taking it to the saw. Remove the moisture from the back of each piece with an old towel before applying mastic and installing it on the wall.
Things You Will Need

Work gloves
Safety glasses
Tape measure
Pencil
Wire mesh
Tin snips
Mastic adhesive
Flat trowel
Mason trowel
Tile wet saw