Lakewood 5500 Oil Heater Specifications
As a means of cutting down on regular home heating system usage, it's hard to argue with a good portable heater. For example, an oil-filled radiator heater can be placed into a chilly room to quickly provide a cozy warm atmosphere. One maker of portable heaters, the Lakewood Company, offers a line of oil-filled radiator heaters at various price points, including the 5500 600/900/1500 watt model. The Lakewood 5500 oil-filled radiator heater itself comes with several interesting convenience and safety features.
Description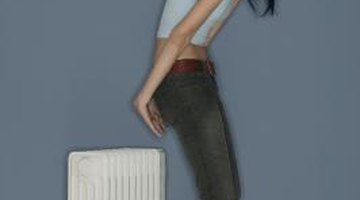 The Lakewood 5500 is a portable heater that somewhat resembles in its basic outlines an old style cast iron radiator heater. The exterior of Lakewood's 5500 oil heater is dual-colored in ice white and gray. The rear of the Lakewood 5500 oil-filled radiator heater features two large wheels for easy movement. The front of the Lakewood 5500 oil heater also has a carrying handle and the unit itself is 15.5 inches long, 25.4 inches high and 9 inches high.
Features
The Lakewood 5500 oil heater features a heating element sealed in mineral oil, both of which are contained within a steel six-finned enclosure. In addition, the Lakewood 5500 portable heater has a dual rocker switch which is used to adjust its three wattage settings (600, 900 and 1500 watts). Because it's sealed within the unit's enclosure, the mineral oil in Lakewood's 5500 model oil heater never needs refilling. Lastly, the Lakewood 5500 oil heater has a thermostat with an automatic on/off function.
Safety Features
Lakewood's 5500 oil-filled radiator heater is UL (Underwriters Laboratories) listed and has several safety features built into the unit. Power and caution lights come standard with the Lakewood 5500, as does as internal high limit-regulating safety fuse. If the Lakewood 5500 oil heater is tipped over, a switch within the unit automatically shuts it off. The sealed nature of the Lakewood 5500 oil heater also means that no flames or fumes are ever present.
Considerations
New Lakewood 5500 600/900/1500 watt oil-filled radiator heaters came with a one year limited warranty. Total weight of the Lakewood 5500 oil-filled heater is about 19.2 pounds. Oil-filled heaters like the Lakewood 5500 work by means of radiating heat outward, and there are no fans or blower-type motors to push heated air around. When they can be found, 2011 prices for the Lakewood 5500 oil-filled radiator heater range from $94 to about $188. The Lakewood company itself went bankrupt in February 2009.
References
Resources
Writer Bio
Tony Guerra served more than 20 years in the U.S. Navy. He also spent seven years as an airline operations manager. Guerra is a former realtor, real-estate salesperson, associate broker and real-estate education instructor. He holds a master's degree in management and a bachelor's degree in interdisciplinary studies.
Photo Credits
Comstock/Comstock/Getty Images
More Articles