Does Steam Mopping Hurt Linoleum Floors?
Linoleum floors, very close in appearance to vinyl floors, are made of natural materials, linseed and oil. Pigments give the material its color. When mixed with other natural materials like ground limestone, ceramic and powdered cork, it is pressed and heated into a flat surface. Just like its look-a-like counterpart, vinyl, linoleum is easy to care for and can be safely steam mopped.
Steam Mop Cleaning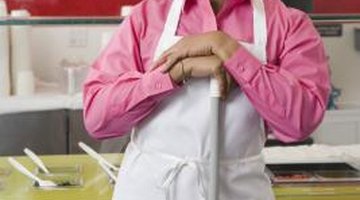 Steam mop cleaning offers the advantage of cleaning without the use of harsh chemicals. It uses the steam of heated water to remove dirt and grime build-up. Some steam mops also sanitize floors when heated to the appropriate temperature of 212 degrees F. Like hardwood floors, linoleum is sensitive to excessive contact with water, as it will distort the appearance and form of the flooring. Carefully research steam mops before using them on a linoleum surface to determine how long it takes to produce steam. Some produce steam as quickly as one second, while others take up to 15 seconds. The longer a steam mop is held in place, the more likely it is to damage a surface.
Other Methods of Cleaning
Another practical and effective method for routine cleaning is to use a damp mop. As with a steam mop, do not use any abrasive chemicals. Also avoid natural, acidic materials like vinegar. While vinegar is safe to clean vinyl floors, linoleum is sensitive to it.
Removing Stains
Linoleum is prone to scuff marks from shoes. Most marks are easily removed with a pencil eraser. For stubborn scuff marks, place a few drops of baby oil on the area and allow it to sit for a few minutes before wiping it clean with a cloth. If linoleum is used in a kitchen, take care to quickly and completely wipe water spills.
Waxing and Sealing
Wax or polish the surface according to the manufacturer's directions in order to provide long-term care for linoleum floors.
References
Writer Bio
Stephanie Green is a writer with more than 10 years of experience. Her work has been published in various lifestyle and trade publications, covering parenting, gardening and human-interest stories. Green holds a Bachelor of Arts in English.
Photo Credits
Jupiterimages/Creatas/Getty Images
More Articles