Carpeted Stairs Vs. Wood
The stairs in your home receive a lot of traffic on a daily basis, which is a major factor when deciding between carpeted or wood stairs. Homeowners will find advantages and disadvantages to both. Carpeted stairs help prevent slipping and falls and are noise insulators, while wood stairs are easier to keep clean and dust-free. Take into account your family's needs and your budget when you make your decision.
Carpeted Stairs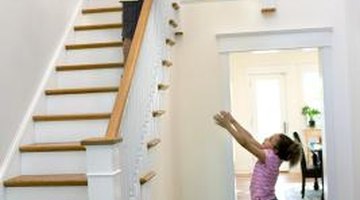 Carpeted stairs offer several advantages to homeowners. Carpeting on the stairs provides better footing for all who use them, especially for young children and older persons. The friction and grip from the carpet reduces the possibility of falling and is a shock absorber, reducing stress on the joints for older adults. Carpeting is a noise insulator, reducing the loud clomping as family members go up and down the stairs. In many homes stairs are a focal point in the entryway. Carpeting provides a warm, inviting appearance that adds to the décor of the home. On the downside, carpets collect dust and allergens, which may be a problem for people with asthma or allergies. Maintaining the condition of carpets requires regular vacuuming and shampooing.
Wood Stairs
Wood stairs lack the safety and noise reduction qualities of carpeted stairs. However, well-maintained wood stairs offer their own appeal. Wood stairs can have a choice of finishes or stains to blend or complement the woodwork in the home. Wood stairs are durable and can be refinished to maintain their beauty and to repair minor damage. Solid wood stairs are the most durable choice but are also the most expensive. Solid wood contracts and expands more than other wood product choices. Engineered wood stairs are less expensive than solid wood stairs, but are not as durable. They have the advantage of being more resistant to temperature and humidity fluctuations, however. Keeping wood stairs clean is less labor intensive than keeping carpeting clean. Wood stairs do not trap dust and allergens like carpets do. A simple wiping with a damp cloth and the stairs are dust-free and as good as new.
Carpeted Runners
To incorporate the advantages of carpeted stairs with the natural beauty of wood, a carpet runner is an option. A runner is a carpet piece that covers the center of the stairs while leaving the wood stair treads exposed on the edges. The runner increases the safety factor on wood stairs and reduces noise. Installing a stair runner is less expensive than carpeting the whole staircase. Carpet runners may match the rest of the carpeting in the home or be of a design or color that complements it.
Considerations
The choice of carpeted or wood stairs depends on your personal situation and preference. Consider the family members in your home and their needs. Take into account the style of your home. If choosing carpeted stairs, choose high quality carpet that is durable enough to hold up under high traffic in a color and texture to enhance your home's décor. Wood stairs offer you several options in natural wood tones or paint to enhance every décor from contemporary to traditional.
References
Writer Bio
Michele Norfleet is a freelance writer who writes on travel, home and garden and education topics. She has coauthored a handbook for teachers on school-wide discipline and has contributed tips for special-needs students in the basal curriculum for RCL Benziger. Norfleet holds a master's degree from Southern Illinois University and has experience as a special-needs teacher and speech pathologist.
Photo Credits
David Sacks/Lifesize/Getty Images
More Articles