Advantages & Disadvantages of Modular Suites
Modular suites of furniture were out of style for a time, due in part to the kitschy image of "conversation groupings" -- lock-together, lookalike sofa and chair units that peaked in popularity in the 1970s. However, with smart modern design and new twists that suit today's high-tech character and eco-friendly focus, modular suites have made a comeback in settings ranging from suburban living rooms to trendy, business-oriented hotels. Is a modular suite right for your space? With the advantages and disadvantages of this approach to interior design, it ultimately boils down to a question of taste.
Advantage: Contemporary Look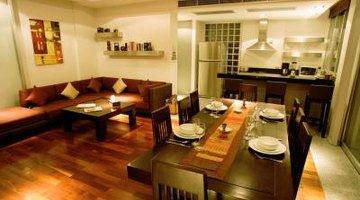 Modular furniture started showing up in trendy hotels catering to business travelers in the mid 1990s, and that is no coincidence. The avant-garde techno look of these furnishings was part of an effort to appeal to the young, technologically sophisticated spirit of the dot-com business boom. Even though the boom has passed, the associated technology has changed our culture. So if you want to outfit a space in a modern, high-tech style, modular suites have much to offer.
Advantage: Flexibility
In home, office and hospitality settings alike, the high-tech qualities of today's modular suites go more than skin deep. The engineering is often sophisticated as well, resulting in a smart practicality. For example, a corner couch unit may be made up of interlocking chairs that can be separated on the fly to suit a variety of arrangements and applications. A side table that attaches to an armchair may break out into a freestanding coffee table.
Disadvantage: Uniformity
Modular suites tend to be made up of pieces that are tightly matched in color and style. However, especially in private homes, not everyone wants to match to that extent. Many interior designers and sophisticated consumers prefer to furnish spaces with individually selected pieces, often representing markedly different eras and design styles, that nevertheless complement one another to form a well-coordinated whole.
Disadvantage: May Limit Creativity and Future Choices
If you furnish a space with a modular suite, you set a certain tone for at least a room, and possibly even an entire home or facility. If you later fall in love with a beautiful piece from or inspired by another era or design style, like early American or Italian provincial, for example, you may find yourself debating whether it would stand out as an oddity.
References
Writer Bio
William Souplis has been writing professionally since 1991. His work has appeared in publications ranging from daily newspapers, including "The Pocono Record," to specialized industry and professional publications such as "Information Today." Souplis earned a Master of Arts in English from the University of Maryland.
Photo Credits
Comstock Images/Comstock/Getty Images
More Articles