Decorating Tips for a 1910 Home
Table of Contents
Before you start decorating a 1910 home, identify its architectural style so you can choose paint colors, decor and interior design enhancements to add antique appeal or update its interior for a more contemporary look.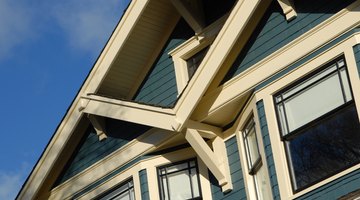 For the best results, focus on the home's architectural style and characteristics when choosing colors for the walls and ceilings, and when picking lighting fixtures and accessories.
Architectural Styles of the 1910s
With influences from the Victorian period and the British Arts and Crafts movement, home styles from 1910 include Victorian Queen Anne homes -- painted ladies -- the American Craftsman bungalow, the American Foursquare home and structures designed after older styles: Colonial, federal and Tudor. Examine the home's lines or take pictures of it to compare it to these styles in architectural books or online sites. Once you know the style, you can choose a color palette for the exterior that brings focus to the home's distinctive characteristics.
Historic Paint Colors
Paint suppliers sell modern versions of historic paint colors for the inside and outside of your period home. For example, Queen Anne 1910 homes used intense color schemes with contrasting colors to accent the decorative or gingerbread trim. Interior decorators and designers apply the 60-30-10 rule when choosing a paint palette for decorating. This rule advises applying a dominant color to 60 percent of the area, a secondary color to 30 percent and an accent color to 10 percent. For the exterior of the home, use the dominant color for the field, the secondary color for trim and the third color for accents.
Distinctive Characteristics
To renovate your 1910 home, look to its exceptional features. Many of the homes from the 1910 era have beadboard on the walls, wallpaper and wainscoting or wood trim, hardwood floors, cast-iron tubs and large kitchens primarily designed as workrooms with a separate dining area. Viable period flooring materials for 1910 homes include tile, natural stone, hardwood, linoleum and even cork in some instances.
Hardware, Fixtures and Accessories
To lend an authentic look to your period home, use the same types of door and cabinetry hardware, lighting fixtures and accessories originally installed when it was built, by choosing antiques or period reproductions. Craftsman Bungalow homes, for example, often have decorative hardware or filigree work on the windows that face the street. Manufacturers make a variety of windows, hardware, lighting fixture and accessories that match your period home.
Contemporary Updates
You can still add contemporary updates to your period home, as long as you pay homage to the home's roots. For example, you may need to modernize the kitchen, such as adding a kitchen island with a brunch bar or dining area; turn a butler's pantry in a Queen Anne home into a mudroom and laundry area, or update the home's plumbing fixtures. Don't forget about energy efficiency when updating your period home: Dual-pane windows, sealing air leaks and attic insulation can make a huge difference in your energy bills.
References
Resources
Writer Bio
As a native Californian, artist, journalist and published author, Laurie Brenner began writing professionally in 1975. She has written for newspapers, magazines, online publications and sites. Brenner graduated from San Diego's Coleman College.
Photo Credits
Gary Blakeley/Hemera/Getty Images
Gary Blakeley/Hemera/Getty Images
More Articles