What Color Wall Goes With Oak Woodwork?
Wood tones have color; they aren't neutral. So the different woods used for woodwork in your home will harmonize better with some paint colors than others. Oak is a strong wood with a straight grain that comes in several different finishes, but it always has an underlying golden or orange tone. Wall colors that harmonize with oak woodwork will generally be ones that combine well with warm colors.
Golden Oak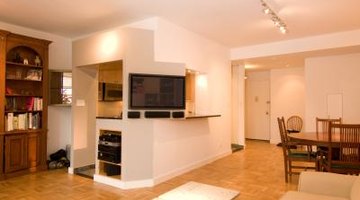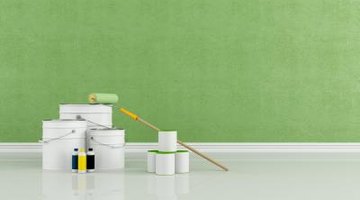 One of the most common finishes for oak is a golden honey color. This attractive, light finish was common in the Victorian era and is still widely used. Because it has such a strong yellow tone, it goes well with the same colors that look good with yellow.
For wall colors with golden oak, choose warm whites, creams, and yellows. Light gray is a pretty neutral choice. Golden oak is handsome with many greens, especially sage green and the newly fashionable moss green and avocado. It is also lovely with many shades of blue, from sky to navy, just as yellow goes well with blue. Golden oak can be sharp with turquoise or aqua if you like vibrant color schemes.
Red and pink are probably not the best choices, but if you really want them, choose warm orange-toned shades rather than cool bluish ones.
Dark Oak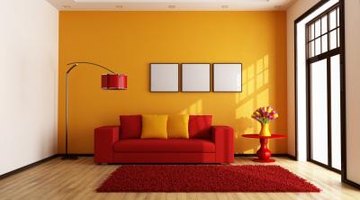 Sometimes oak comes in a darker brown finish. While brown is not as noticeable as the yellow tones of golden oak, it still has underlying orange tones that are flattered mostly by warm colors and shades of green and blue. Dark oak looks stunning with oranges from pumpkin to nutmeg, russet and chestnut as well as all the lighter aforementioned colors. Blues should be true blues or more green than purple; that is, turquoise would generally be a better choice than periwinkle. Warmer reds or pinks might work with dark oak, but coral would be a better bet than a purplish pink.
Limed Oak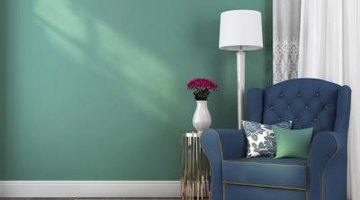 In the 1950s, limed or pickled oak was a favorite finish for woodwork. Here, the yellow tones of oak are washed with a white or light gray stain, so the yellow is neutralized to a pale sandy color. Limed oak looks cool and beach-like with turquoise and avocado (two favorite '50s colors), and subtle with neutrals like beige or taupe.
Strong and informal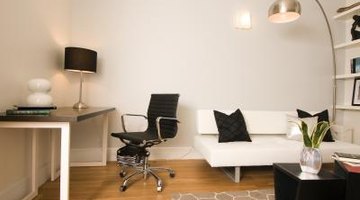 Oak is also a relatively informal wood because of its prominent grain, in contrast to satiny smooth woods like mahogany and rosewood. So oak goes well with fabrics that have a coarse or uneven texture, like linen or corduroy, and looks a little out of place with delicate, formal fabrics like silk or velvet.
References
Crane, Catherine C. What Do You Say to a Naked Room?, Dial, 1979
Writer Bio
Emily Goodman is a writer and editor based in Brooklyn, N.Y. She has more than 15 years of experience as a journalist, writer and book editor. Also a trained gardener, Goodman's award-winning children's book, "Plant Secrets," was published by Charlesbridge in 2009.
Photo Credits
Jupiterimages/Photos.com/Getty Images
archideaphoto/iStock/Getty Images
de santis paolo/iStock/Getty Images
JZhuk/iStock/Getty Images
Jupiterimages/Photos.com/Getty Images
More Articles