Purpose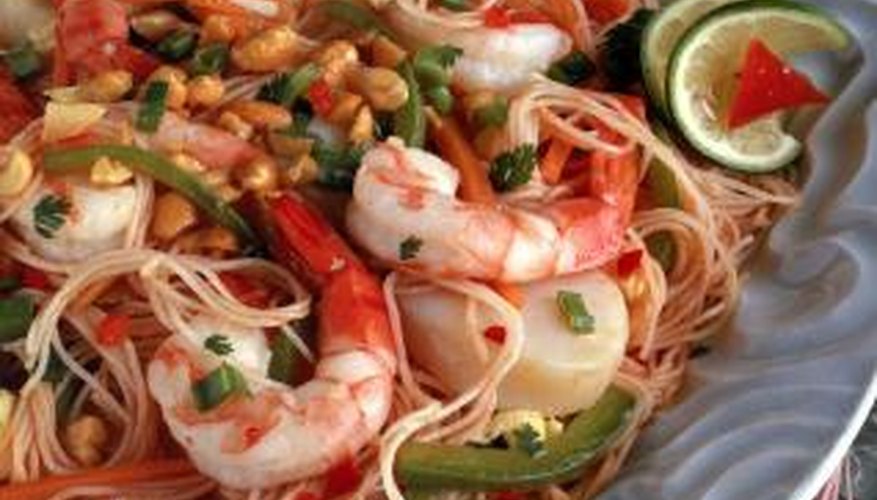 These restaurants use high heat that allows cooks to fry meat and vegetables in just minutes while also removing excess moisture from the food. A wok burner is the answer to stir-fry cooking problems caused by insufficient heat.
Preparing a stir-fry on a regular stove can require lengthier cooking times than that necessary with a restaurant's high-end equipment. This may lead to mushy vegetables and overcooked meat. With a wok burner's high and adjustable heat, you can learn to cook stir-fry at a more expert level. Wok burners are powered with propane for high heat and intended for outdoor use. They're also called outdoor stir-fry cookers and outdoor stir-fry stoves.
Parts
An outdoor stir-fry stove includes the burner along with a pressure regulator, hose, connector and legs. Other possible components include a wind guard and a thermometer, and some even include a wok and wooden utensils. Wok burners with short legs can be used on a table and those with long legs placed on the ground, patio or deck. The stoves use the same small propane bottles or refillable tanks that work with gas grills. These are available from liquid propane dealers and a variety of stores, including home improvement stores, hardware stores, large general retailers and those that specialize in outdoor gear.
Cooking
A stir-fry meal takes only a few minutes to cook on a propane-powered wok burner. You may need to experiment with timing. A sample recipe involves frying broccoli, celery and carrots in oil for three or four minutes until just tender, then moving the vegetables to one side of the wok to keep warm while you cook the meat for three to four minutes.
Caution
Like gas grills, propane-powered wok burners give off some smoke and harmful fumes. They are not intended for use indoors, where they can lead to carbon monoxide buildup. Cook on your patio or deck or in the yard instead. Wok burners get extremely hot very fast, so use caution and don't leave the burner unattended. If smoldering oil becomes hot enough, it can start a fire.