What Hardware Can I Use to Slide Open a Coffee Tabletop?
Sliding tops turn a coffee table into a hidden storage opportunity. Fill the cavity with magazines, books, remotes, blankets or any other miscellaneous living room must-haves. While you could craft a slide-open coffee tabletop without using hardware, the top may be difficult to pull out. Choose appropriate hardware to get a smooth slide every time.
Drawer Slides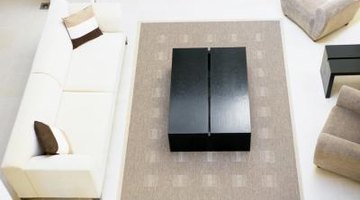 The same hardware a drawer uses to slide in and out of its cavity can serve the same purpose for a sliding coffee tabletop. These metal or plastic runners can be smooth, fitted together and may include a rolling wheel for a smoother slide. Always meticulously measure your runner location before installing them, as they must be in the exact place on both sides of the pullout top.
Side-Mount Versus Top-Mount Slides
Most drawers and slide-out tops use side-mount slides. In this configuration, you'd attach a set of metal runners along the edges of the pullout top and inside the edges of the leftover cavity. Sometimes, this mount doesn't work aesthetically or practically with a project like a slide-out coffee tabletop, especially if the entire top of the table is designed to pull out. You can use the less-common top/bottom-mount slides, which attach to the bottom of the coffee top and the top of the cavity.
Full-Extension Versus Partial-Extension Slides
Without the appropriate hardware, your coffee table's top will not only slide open, but will continue to slide until it's completely removed. While you might find that useful if you'd like to occasionally keep the coffee table completely open, the lack of stoppers would probably grow annoying after several accidental total removals of the coffee table's top. To get close to a completely openable top, install full-extension slides, which are engineered to pull out completely. If you'd rather the coffee tabletop only open slightly, use partial-extension slides.
Ball-Bearing Guides
A rolling wheel-on-drawer slides allows for a smoother slide, but for even smoother sliding, use drawer slides equipped with precision ball-bearing guides. The round ball bearings create far less friction than traditional drawer slides, even those with wheels. Less friction means less resistance and a smoother glide.
References
Kitchen Cabinets Made Simple: A Book and Companion Step-by-Step Video DVD; Gregory Paolini
Writer Bio
Katherine Harder kicked off her writing career in 1999 in the San Antonio magazine "Xeriscapes." She's since worked many freelance gigs. Harder also ghostwrites for blogs and websites. She is the proud owner of a (surprisingly useful) Bachelor of Arts in English from Texas State University.
Photo Credits
Goodshoot/Goodshoot/Getty Images
More Articles