The Stops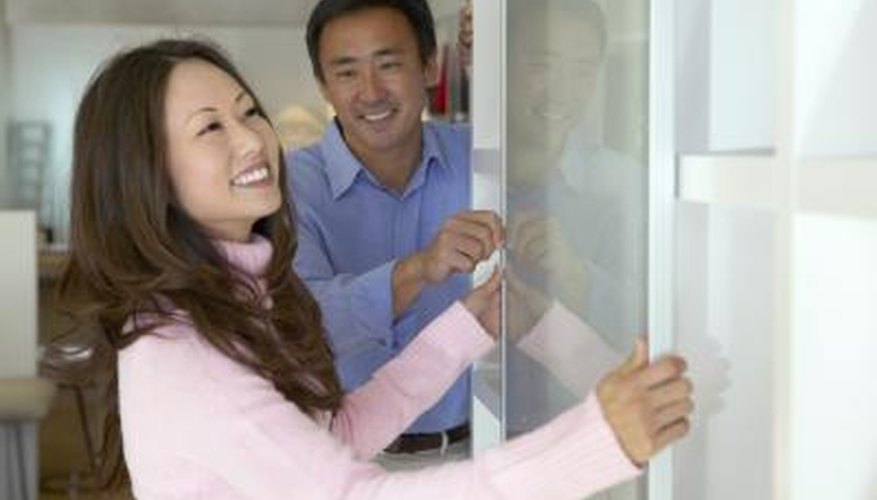 All that opening and closing makes the ball bearings the hardest-working parts of your closet door. It is easy to replace worn or malfunctioning ball bearings as long as you follow a few guidelines.
Before you replace the ball bearings, you must remove the stops. The ball bearings on the top of a sliding closet door roll freely inside the door's track. The track is equipped with stops that keep the ball bearings and the door from coming off of the track. They are easy to spot. Slide your closet door along the track until it stops. The small mechanism that stops the ball bearing from sliding any further is the stop. You must remove the stop to take the door off of the track and replace the bearing. Most stops are removed easily by removing the screw that holds them in place. Some stops feature a quick-release tab. When pressed in, it allows the ball bearing to freely slide past it while it is still installed in the track.
The Track
Your ball bearings may not be the only problem with your sliding glass doors. Once the ball bearings are out of the way, inspect the track. If you notice any corrosion, warping or other physical damage on the track, replace it. If the track is sound, clear any dust away and coat the interior with a silicone spray. This minimal maintenance goes a long way to improve the sliding action of your closet doors.
The Door
Once you remove the old, malfunctioning ball bearings, check out the holes their screws left behind. The screw holes may be frayed or over-sized, especially if the closet door is made of composite wood. Old, damaged holes should not be reused. Clear away any dust or debris and fill the holes with wood putty or filler. Examine the rest of the door for splits, cracks or rotting wood. Make repairs as needed before you install new ball bearings on the door.
New Ball Bearings
Read the packaging that comes with your ball bearings carefully. Most ball bearings come self-leveled. Others must be hand leveled according to the manufacturer's instructions. The new ball bearings can be screwed directly in place of the old bearings if the door is sound. If you've had to make repairs, only screw the new ball bearings in sound wood. Keep the new locations as close to the original screw holes as possible. Once the ball bearings are secure, level and in place, the door is ready to go back onto the track.