Faucet Coordinating Cabinet Knobs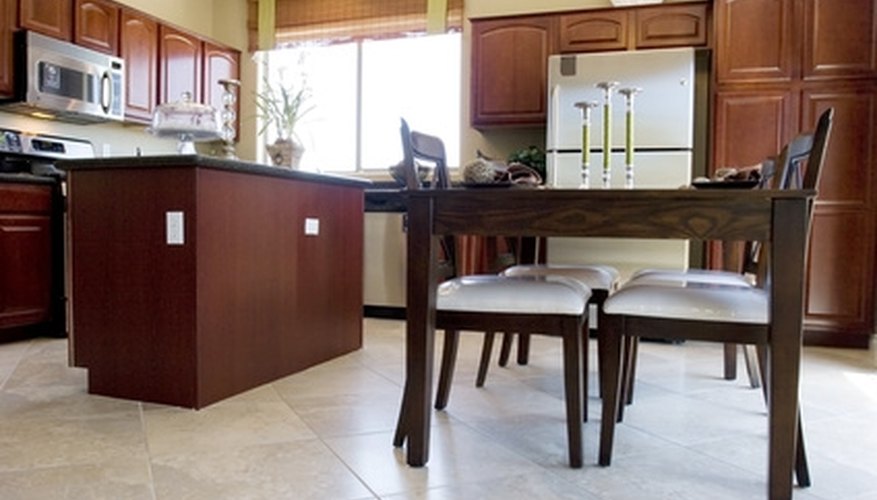 Choose colors, appliances, fixtures, drawer pulls and cabinet knobs that aid in the overall functional nature of the space. Choose knobs and handles that are easy for family members to hold onto and that you like. There are no hard and fast rules that limit your choice of cabinet knobs.
Should you choose to coordinate your kitchen knobs to match the faucet, you are likely to have a lot of choices of knob styles. Search hardware, home improvement or kitchen specialty stores to find a functional selection of knobs that will match the material used for your kitchen faucet. Shop with a list of the specific number of knobs you'll need to purchase, and buy the design that you like.
Artistic Cabinet Knobs
If you'd like to make a statement with your kitchen cabinet knobs, choose knobs made with a more artistic approach. Kitchen and hardware specialty stores offer a variety of artisan made or inspired knobs. Made out of metals, glass, carved wood or repurposed from other items, these knobs give kitchens individuality. Hand-crafted knobs based on your interests are another option. Use a sand dollar shaped knob here or a palm shaped knob there -- whatever you think looks best.
Knob Function
No matter the knob that you choose for your kitchen cabinets, make certain it is a knob that works well for opening cabinet doors. Knobs should be in a size you can easily grasp and should be safe for anyone using them. Ensure that none have sharp edges, especially the artisan-styled knobs, and that all are securely fastened to the cabinet doors with appropriately designed hardware.
Other Knob Selection Considerations
Kitchen cabinet knobs and coordinating drawer pulls come at a variety of price points. Choose the best quality knobs available in your budget to ensure some longevity. Knobs are available from hundreds of online vendors, hardware, specialty and big box stores, and knob trends do change. If there is a concern about fit or future availability, purchase where returns are accepted and select a few extra knobs for replacement purposes.