Mini-Bar Fridge Sizes
Mini-bar fridges come in several sizes to serve different purposes. A mini-bar can be used to hold beer, wine and soft drinks in an area of your home that doesn't accommodate a full-sized fridge, such as a finished basement or bedroom. Mini-bars are also common additions to dorm rooms, home offices and other small living spaces where they can cool both food and beverages.
Micro Fridge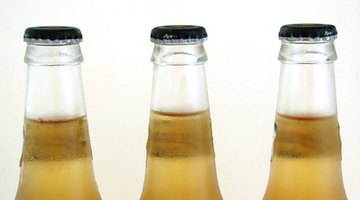 The smallest mini-bar fridges are designed to accommodate six to 12 canned soft drinks or beer. Their average dimensions are around 10-by-12 inches and 8 inches deep, although smaller models exist as well. Micro fridges are easily portable and can often be plugged into a 12v car outlet as well as household AC sockets. In addition to chilling canned drinks, they are also helpful for transporting other small perishable items such as medication or baby food.
Compact Fridge
A compact refrigerator offers greater versatility than a micro fridge while still consuming only a small amount of space. Dimensions are generally around 20-by-18 inches and 20 inches deep. A compact fridge can hold larger bottles, such as 2-liter and 750 ml bottles of wine, as well as cans and 12-oz. bottles and a modest amount of food. Compact fridges also often have a small freezer area that's just large enough for one small ice tray.
Wine Fridge
A compact wine fridge is designed to hold 750 ml bottles of wine at specific temperatures. Sizes vary, but a typical 12-bottle wine fridge is about 20-by-30 inches and 20 inches deep. Unlike other small refrigerators, a wine fridge has partitions that hold bottles horizontally, and is rarely used to cool anything but wine -- although you can find wine and beverage fridges with space for both horizontally stored wine bottles and smaller beverage containers. Wine fridges typically hold six, 12 or 18 bottles of wine.
Double-Door Mini Fridge
A double-door mini fridge has a refrigerator large enough to hold 750 ml bottles as well as shelves for smaller drinks and food items, plus a crisper for vegetables and fruit, and a freezer -- equipped with its own door -- for making ice and holding a small amount of frozen food. Double-door mini models are generally around 30-by-20 inches and 20 inches deep. Double-door mini fridges are a good choice for one-room living spaces, as well as for use in home bars or game rooms.
Party Cooler
A party cooler is an electric mini-fridge that can be used indoors or outdoors and filled with cans or 12 oz. bottles of drinks. Although it is a refrigerator, it's designed with a lid that opens at the top like a cooler. Party coolers are barrel-shaped, generally over 30 inches tall with a diameter of about 18 inches, and a capacity of up to 72 beverage cans.
Writer Bio
Delaware-based Daisy Cuinn has been writing professionally since 1997, when she became the features editor for her local biweekly music newspaper. She has been a staff writer and contributor to online and offline magazines, including "What It Is!," Celebrations.com and Slashfood. Cuinn holds a Bachelor of Fine Arts from Temple University.
Photo Credits
More Articles