Blenders That Liquefy
Nearly all blenders are designed to liquefy. However, some perform this function better than others. Unfortunately, many consumers don't find this out until after they have made the purchase. Being aware of the best liquefying blender can save you money and frustration.
The Magic Bullet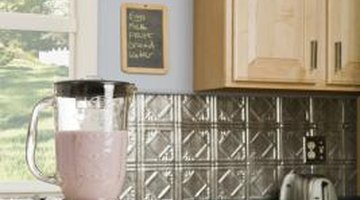 The Magic Bullet uses innovative technology to provide a liquefying blender that does the job in 10 seconds or less. Much smaller than most blenders, the Magic Bullet also provides a large amount of convenience. It takes up very little space on the counter, and cleaning the Magic Bullet takes very little effort. The innovative technology lies in the specially designed blades. There are two different blades for the Magic Bullet. The cross blade can be used to chop, grate or blend. The flat blade can be used for grinding hard foods like spices and nuts. Both are made from stainless steel and do not require sharpening.
VitaMix
VitaMix offers a wide variety of blenders, all of which liquefy very well. It also performs a large number of other functions including mixing soup and processing whole foods. The VitaMix blender is also BPA free, which has recently become a concern with plastic products. Unfortunately, the price for the VitaMix can deter many consumers, but many who have purchased this blender have found it to be just what they were looking for.
Oster 6642 12-Speed Blender
The Oster 12-speed blender can also liquefy foods fairly well and at a much lower price. This blender also has an easy clean function that can be used by pressing the grate button when the blender has been filled with warm, soapy water. It can also be placed in the dishwasher for easy cleaning. If your blender has issues liquefying some harder foods like carrots, adding water to the blender can help.
KitchenAid 5-Speed Blender with Polycarbonate Jar
The KitchenAid 5-speed blender also liquefies foods rather well. It features an easy-to-clean design as well as a one-piece blade that prevents food from getting trapped between the bottom of the jar and the blade. The automatic "crush ice" button can be used for harder foods and ice. This liquefying blender falls in the median range for price.
Hamilton Beach WaveMaker Blender
The Hamilton Beach WaveMaker uses a wave action to liquefy foods. This action forces foods from the top of the blender down toward the blade, preventing the common chunks that many blenders leave on top. This innovative technology is designed to provide smooth drinks, no matter what you are blending. There are also no concerns with BPA because the blending jar is constructed of glass. The price for this blender falls in the lower price range compared to the others listed.
References
Writer Bio
Brian Coughlin started writing as a full-time freelance writer in 2010. He writes for websites such as Starseeker and StreetAdvisor. Coughlin has a Bachelor of Arts in English from the University of Iowa.
Photo Credits
Jupiterimages/Creatas/Getty Images
More Articles