Is the Hoover Floormate Safe for Laminates?
Hoover advertises the Floormate with SpinScrub technology as the first all-in-one floor cleaner designed specifically for hard surface floors. According to the company website, the Floormate is designed for and safe to use on laminates, sealed hardwood, bamboo, marble, tile, vinyl and linoleum. Because the Floormate can vacuum as well as mop and removes the dirty water with the push of a button, it eliminates the need for a stand-alone vacuum cleaner as well as mops and buckets for hard surface cleaning.
Features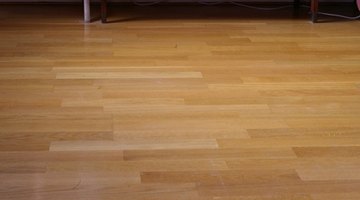 The Hoover Floormate is a multifunction cleaning tool that can be switched between vacuum, wet and dry modes for a variety of hard surface cleaning situations. Designed specifically for hard surfaces, the Floormate features six spinning brushes for deep cleaning as well as a dual-tank reservoir system that keeps cleaning solution separate from extracted dirty water. The applied cleaner is removed from the floor by a process that combines a suction action with a squeegee head for optimum drying effect; the same feature allows for quick cleanup of liquid spills, such as milk and juice.
Significance
The Hoover Floormate can reduce cleaning time considerably due to the elimination of multiple cleaning tools and methods typically used for cleaning laminate floors. Because the dirty water reservoir is capable of picking up pet hair, food crumbs and other small debris, there is no need to sweep or dust the floor before cleaning; the squeegee action eliminates the need to dry the laminate as one would after damp-mopping.
Considerations
Although the Hoover Floormate with SpinScrub technology is advertised as safe for use on laminates, flooring manufacturers such as Pergo and Shaw specifically state that laminate floors should never be cleaned with liquids, wet-mopped or exposed to liquids for an extended period of time. In addition, manufacturers recommend that the only commercial cleaning product used on laminates be their own laminate cleaning product, a mixture of vinegar and water, or a mixture of household ammonia and water. Other cleaning products may leave streaks or an unsightly residue on the surface of the floor.
Warning
While Hoover may state that the Floormate is designed for and safe to use on laminate floors, the ultimate decision should rest on the specifications found in the laminate manufacturer's warranty guide. Failure to follow specific manufacturer's cleaning instructions will result in compromising the warranty and may void all possible claims against product performance throughout the life of the warranty.
References
Writer Bio
Robin Hewitt began her writing career in 2008. She is the coauthor of several books, including "The Joyous Gift of Grandparenting," which covers the nutritional and fitness needs of both grandchildren and grandparents.
Photo Credits
More Articles