Acetone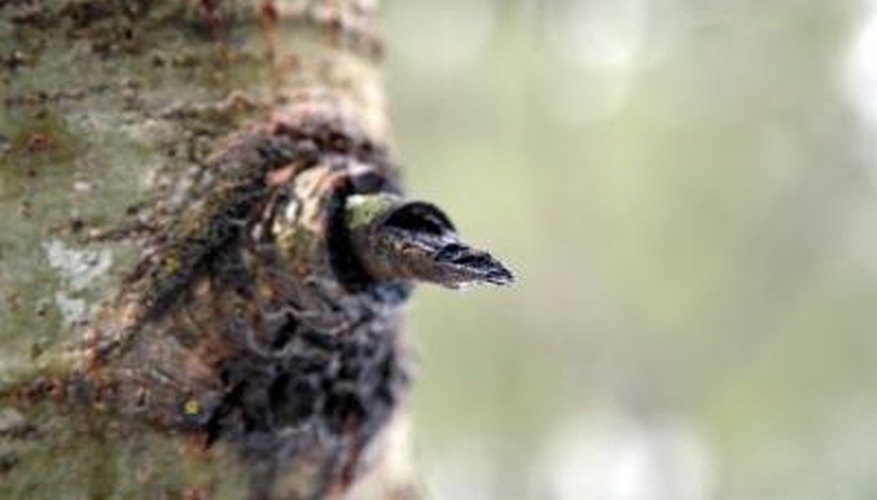 The sticky substance that drips and oozes out of the tree can come in contact with clothing, skin and hair. You can also track the pine tar into your home via the bottom of your shoes. Fortunately, you can remove the tar using common household items.
Found in many nail polish removers, acetone will remove pine tar from hard surfaces such as floors and wood furniture. However, you must take care when using acetone on wood. Leaving acetone on wood can dissolve the finish. Add 1/4 cup of acetone to a container. Saturate a cotton swab or ball in the acetone and begin rubbing the pine tar off the surface. When the cotton swab or ball becomes soiled, replace it with a fresh one and continue rubbing until you have removed the pine tar. Immediately wipe the surface with a cloth dampened in cool water.
Rubbing Alcohol
Typically, pine tar will not budge from clothing with a normal washing. Fortunately, inexpensive rubbing alcohol will dissolve the sap without damaging the clothing. Lay the clothing on a flat surface with the tree sap facing up. Slide a white towel directly under the sap. Dampen a cloth with rubbing alcohol and begin blotting --- do not rub --- the pine tar for two to three minutes until the sap is no longer visible. Apply a prewash stain treatment to the area and let it sit for 10 to 15 minutes before laundering as you normally would.
Mayonnaise
A condiment commonly used on sandwiches, mayonnaise breaks down the pine tar, making removal from skin and hair easier. Rub mayonnaise into the skin for several seconds before washing with warm, soapy water. Continue in this manner until you have removed the sap from your skin.
For tar stuck in hair, apply a dollop of mayonnaise directly on the pine tar. Make sure to cover the tar completely with the mayonnaise, and allow it to sit for five to 10 minutes. Rinse the mayonnaise out of your hair and shampoo as you normally would.
Mineral Spirits
When the pine tar will just not budge, use mineral spirits to remove it. While wearing a pair of rubber gloves, dip a rag in mineral spirits and begin blotting the tar for several minutes. Hold the dampened rag on top of the pine tar for several seconds, and then begin blotting once again. Dampen a clean cloth with cool water and wipe the mineral spirits off the surface. Never allow mineral spirits to sit on the surface for an extended period of time. Repeat the process until you have removed all traces of the pine sap.
Remove tree tar from skin by rubbing it gently with a rag dampened in mineral spirits. Once you have removed the sap, wash the skin with warm, soapy water, rinse it with cool water and wipe it dry with a towel.