The Best Selling Primitive Decor Items
Decorating in primitive style reflects the simplicity of Colonial days in America. Painted or natural rustic furniture, shelves, peg racks, candle holders and cupboards were created for specific needs and functions without embellishment. Worn, distressed and reclaimed characterize the best-selling primitive decor. Handmade candles, soaps, potpourri, baskets and wreaths enhance the cozy, humble ambiance familiar to primitive decorating. Skilled artisans create attractive, useful primitive accessories and furniture that may become family heirlooms to be treasured by future generations.
Charging Station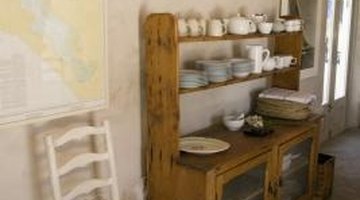 Primitive decor does not incorporate the display of modern electrical cords. Created for the specific purpose of hiding unsightly cords, the primitive charging station provides for the recharging of electronic devices. A free-standing cabinet drilled with holes on the top provides a slot to slip cords through to the hidden, multiple electrical outlet harbored inside the enclosed cabinet. This furniture piece enhances the primitive decor while accommodating modern conveniences.
Amish Baskets
Amish children learn the craft of basket weaving at a young age from accomplished, elder artisans. Woven handmade baskets add texture, visual interest and function to the primitive decor. Amish artisans are well-known for their superb craftsmanship in creating one-of-a-kind baskets. Optional accent colors further personalize each basket. Assorted sizes and styles such as single and double pie carrier, compartmentalized picnic, harvest apple, small organizer, mail hanger, and spinning lazy Susan baskets are functional and attractive.
Wall Decor
Decking the walls with primitive decor may provide functionality, in addition to visual focal points. Hand-crafted primitive shelves, peg and bowl racks, and suspended candle holders are useful for displaying primitive accessories. Punched-tin stars, stitched pictures, rustic lanterns and decorative wooden plaques complement this simple style. Primitive hand-painted metal or wood signs for the laundry, kitchen, front door and bath are enduring, best-selling wall accessories. Simple and witty, these signs commonly provide humorous, spiritual or family-themed messages.
Candles
Romans are often credited with the origin of the candle. Colonial women created the first candles in America by boiling the sweet-smelling berries of the bayberry bush, creating candle wax. Candles play a major role in primitive decor. Apothecary, mason and jelly jar, tin and sugar shaker represent a few of the many primitive candles available. Soy is often integrated into a best-selling candle, providing a longer shelf life and producing a more intense fragrance.
References
Writer Bio
Mary Cockrill's education and certifications in interior design and home staging have allowed her to author numerous home-related articles. Cockrill has been a top design consultant for a renowned home store and is the owner of Starwood Home & Gifts, LLC, an interior design, decorating and home staging business. She holds a Bachelor of Science in secondary education with a comprehensive major in office administration.
Photo Credits
Jupiterimages/Goodshoot/Getty Images
More Articles