Dimensions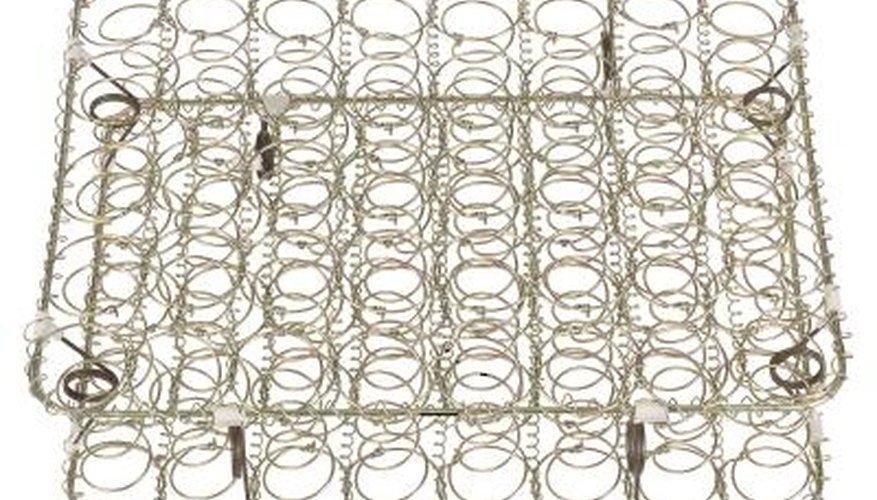 Manufacturers make mattresses with firm support, soft support or adjustable support systems. In 2007, the U. S. Consumer Product Safety Commission implemented new regulations mandating that mattresses meet flammability standards. Manufacturers use flame-retardant material inside of mattresses and flame-retardant chemical applications to meet flammability regulations for all five standard mattress sizes.
Twin-size mattresses measure approximately 38 inches wide and 74 inches long, while full-size mattresses measure 54 inches in width and 74 inches in length. Queen-size mattresses measure 60 inches wide and 80 inches long, and standard king-size mattresses measure 76 inches in width and 80 inches in length. California king-size mattresses measure 72 inches in width and 84 inches in length, according to J. Michael Griggs from Harvard University's Faculty of Arts and Sciences.
Support Systems
Traditional innerspring mattresses contain a metal coil support system. Pillow-top innerspring mattresses feature a padded mattress top section. Foam mattresses provide full-body support by cradling you when you lay down. Chambers filled with water or air provide support for inflatable or waterbed mattresses. If you share your mattress and your partner has different support requirements than you, consider purchasing an adjustable air support mattress that lets each of you choose the amount of support that best suits your comfort level.
Layout
Traditional water and coil spring mattresses either fit into a foundation frame or lay on top of a box spring platform. Mattresses specially designed for adjustable bed frames allow you to raise or lower the top or bottom of your mattress to provide head and torso support or to elevate your lower torso. Futon mattresses fold in the middle to simulate a couch during the day when placed in a futon frame.
Considerations
Certain manufacturers produce single-sided innerspring mattresses that you don't need to flip. Mattresses that contain extra layers of padding on top of an innerspring support system may measure up to 16 inches thick, according to The Better Sleep Council. These mattresses may require special fitted sheets that account for the extra thickness. You can use a foam channel system to join two twin mattresses together and use king-size sheets as bedding.