How Close Can a Microwave Over the Stove Be?
Over-the-range microwave ovens save counter space and provide an elegant way of incorporating an extra cooking appliance into the area occupied by your stove. When you install your microwave, you should ensure that you are providing sufficient clearance between the oven cooktop and the underside of the microwave to avoid damaging the electronics. The exact amount of space you decide to leave will depend on the height of the microwave and the amount of room available above.
Recommended Minimum Height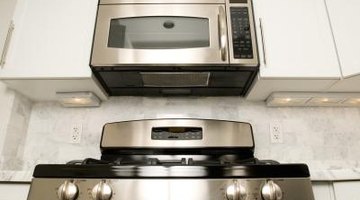 Most major manufacturers recommend a distance of 30 inches between the top of the microwave and the surface of the oven. Depending on the height of the oven, this equates to roughly 14 or 15 inches between the underside of the microwave and the stovetop.
Placing the Microwave Lower Than Recommended
You might want to install the microwave closer to the oven to reach it more easily, although 14 inches is often enough for most people of average height. Installing the microwave significantly lower than recommended increases the likelihood that heat from the cooking surface will cause damage to the heatproof panels. A lower microwave reduces room for pans on the stove.
Placing the Microwave Higher Than Recommended
Installing the microwave higher than recommended is sometimes necessary to match the line of your kitchen cupboards. As long as you can easily access the microwave, there are no limitations to the height you can install the microwave above the stove.
Other Considerations
There should be 2 inches of clearance between the backsplash of the oven and the underside of the microwave, which might affect the height you mount the microwave if your oven has a large backsplash area. Manufacturers recommend a distance of 66 inches from the floor to the top of the microwave for ease of access. Over-the-range microwaves may not be suitable for ovens rated over 60,000 BTUs.