What Size Cabinet or Type Do You Use With Microwave Drawers?
Microwave drawers are a contemporary option that replace bulkier versions that take up your valuable counter space. They are commonly installed in your base cabinets, and the size of your cabinets must be able to accomodate the width and weight of a microwave drawer. Many styles of cabinetry can work in conjuction with microwave drawers as long as they have the requisite specifications.
General Information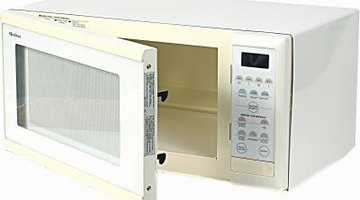 Microwave drawers are an alternative to traditional microwaves that open with a door. Tapping on a microwave drawer causes it to open, allowing you to insert food inside. This technology allows you to free up your counter space. It is also an alternative to microwaves that are installed to the upper cabinetry. Microwave drawers offer the convenience of a low-setting microwave that allows greater accessibility than a high-mounted upper cabinet microwave. In general, 24, 30 or 33-inch cabinets are required. The necessary size of your cabinets will depend on the size of your microwave drawer and the type of installation.
Standard Application
Two common sizes for microwave drawers are 24-inch and 30-inch models. A standard microwave drawer application involves the microwave drawer trim to overlap the cabinetry's stiles and rails. A 24-inch microwave drawer has a top overlay of 3/8-inch, a bottom overlap of 1/8-inch and a side overlap of 1-inch. A 30-inch drawer has the same size top and bottom overlap as the 24-inch model, but a side overlap of 3/4-inch. The opening height for both sizes must be 14 3/4-inch. A 24-inch drawer requires a 22 1/8 opening width and a 30-inch drawer requires a 28 1/2-inch opening width.
Flush Inset Application
A flush inset application requires that the microwave drawer is recessed into the cabinetry. The cabinetry must be slightly wider for this installation process than the standard installation. A 24-inch microwave drawer installed in this manner must have a 24 3/8-inch flush inset width. A 30-inch microwave drawer requires a 30 3/8-inch flush inset width.
Style
Most kitchen cabinetry styles can accommodate a microwave drawer as long as they meet the size specifications. Base cabinets and kitchen islands are appropriate options for a microwave drawer. The cabinet should be able to support more than 125 pounds. The microwave drawer manufacturer can also supply trim to cover the drawer that matches your existing oven or cabinetry.
References
Writer Bio
Samantha Kemp is a lawyer for a general practice firm. She has been writing professionally since 2009. Her articles focus on legal issues, personal finance, business and education. Kemp acquired her JD from the University of Arkansas School of Law. She also has degrees in economics and business and teaching.
Photo Credits
Zedcor Wholly Owned/PhotoObjects.net/Getty Images
More Articles