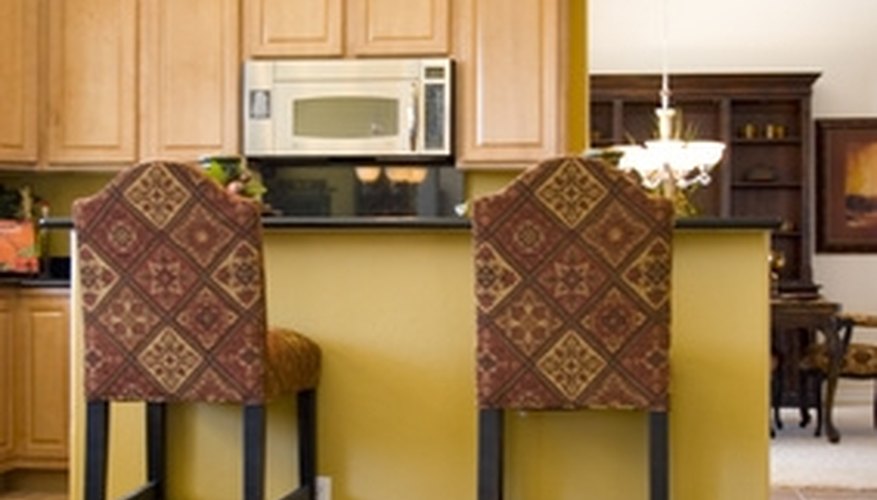 Moving your microwave above your stove will free about 3 cubic feet of counter space without the hassle and expense of building new counters or adding new cabinets. In fact, microwave hoods cost about $250 and take only a couple of hours to install.
Locate the wall studs in the area you wish to install your microwave. You need at least one stud to hang a microwave hood due to the weight of the microwave hood assembly. Mark the studs on the edges or at the center so you can find them later. A central stud is best.
Align the mounting plate center markers to the center of the installation space. Making sure the plate is butted up to the upper cabinet, mark the mounting holes. There should be at least two holes marked on each stud.
Drill holes at the marks, sized appropriately. Where there is no stud, a larger hole will be required because you will need to use the enclosed toggle nuts. The stud locations will need to be pre-drilled so that a screw will go in easily. As mentioned in Step 1, you must locate the microwave on a stud, the drill locations (as indicated by the plate itself) will not all be on a stud, but either the center or the both sides must be. Both kinds of locations and hardware will be involved in placing the plate properly.
Attach the metal plate to the wall, inserting toggles and screws where indicated. Tape the enclosed template to the underside of the cabinet and drill the holes as indicated. Hole size and location will vary with manufacturer.
Put a washer on each of the bolts that go through the top of the microwave and place them inside the cabinet near the holes you drilled. You're going to want to get to them quickly once the microwave is in place. Before proceeding, tape the microwave door shut so that it doesn't come open during installation.
Hang the microwave on the two tabs at the base of the wall mounting plate. You will need help for this. Thread the power supply cord through the larger hole in the cabinet, then rotate the microwave flush with the upper cabinet.
Grab the bolts that are in the upper cabinet, thread them through the holes and attach them to the microwave as quickly as possible. Once you are at this point, you cannot stop without completely unmounting the microwave and starting over. Tighten the bolts until they are evenly tensioned and are supporting the weight of the microwave.
Things You Will Need

Power screwdriver
Power drill
Stud finder
Pencil
Tape
Grounded 3-plug outlet pre-wired
Tip
Be sure that an outlet is available near the microwave installation location. Ideally, it would be in the cabinet above.