Privacy Screen Ideas
You can find examples of outdoor and indoor privacy screens in different cultures all over the world, from the paper room dividers of ancient Japan to the plastic decorative screens of modern America. Outdoor privacy screens are tall, weatherproof panes that block the view into your yard. Indoor privacy screens are freestanding, paneled screens consisting of a solid material, such as wood, or a solid frame around a fabric/paper panel.
Carved Indoor Screen
Rectangular wood planks can go from drab to dramatic when they're carved with intricate designs, stained a rich color and constructed into an indoor privacy screen. Intricate natural carvings, such as birds flying from tree to tree, can cover each plank in the four-panel screen. A mahogany stain and glossy varnish add an antique touch to the privacy screen. A gold stain and glossy varnish add a formal feel to the decoration.
Floral Indoor Screen
Floral fabric and white wood combine for an indoor privacy screen with a sweet and feminine style. The screen consists of three, tall, rectangular, white wood frames hinged into standing screen shape. Pleated, floral fabric panels fill the inside of each wood frame. The privacy screen works as a bedroom, bathroom or living room accent piece.
Japanese Indoor Screen
Traditional Japanese privacy screens, known as shoji screens, consist of decorative frames filled with a sheet of rice paper. Decorative accents can include thin pieces of wood set horizontally and vertically across the screen body create a geometric pattern. You can also paint a custom design on the paper part of the screen. The screens work best in relatively dry environments, such as a bedroom or living room.
Lattice Outdoor Screen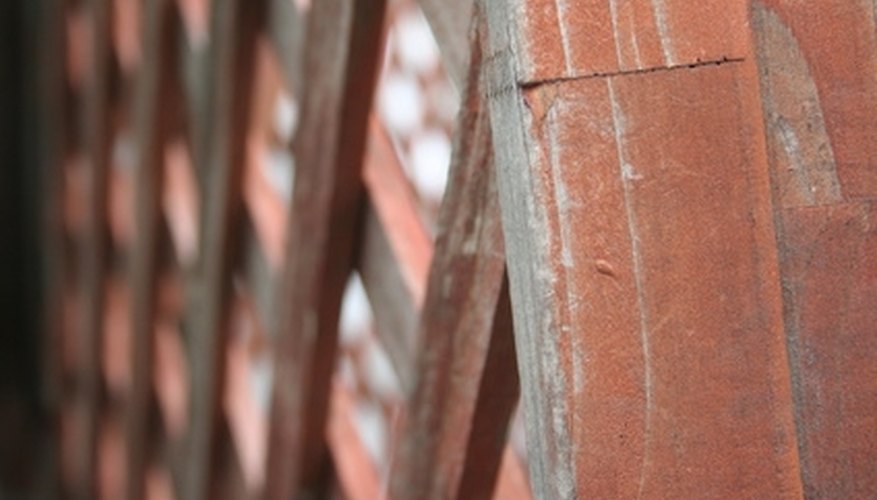 A thin, wooden, lattice privacy screen not only looks good among outdoor surroundings, you can grow vines up the latticing for extra privacy. Thin strips of natural wood create a tall lattice screen with an earthy feel. Thin strips of white wood create a screen with a crisp feel. Place the lattice screen on the edge of a patio/deck to create a small private area or surround the sitting area with the screen to create a large private area.
Modern Outdoor Screen
Give your yard a modern edge with a wrought iron privacy screen around your patio. The screen consists of several decorative panels positioned in a line. Panels comprised of horizontal and vertical iron bars surrounded by thick, twisted, wrought iron frames form a dramatic modern screen. Panels comprised of vertical, zigzag-shaped iron bars with iron dot decorations form an amusing modern screen.
Picture Frame Indoor Screen
Add a personal touch to your decor with a privacy screen that also displays photographs and drawings. A picture frame screen consists of three, tall, rectangular wooden panels. Each panel contains several small picture frames inset with clear glass or plastic. You can slide a photo or drawing into each frame on the front and back of the screen.