Top Rated Carpet Cleaning Products
Carpeting is a big investment in a home. It is important to know that the products you are using on your carpet are safe for both the carpet and your family. Carpet stains and soiling are natural occurrences, but with the right carpet-cleaning product, you can keep your carpet looking new year-round.
The Carpet and Rug Institute Seal of Approval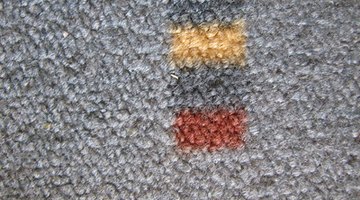 The Carpet and Rug Institute tests carpet-cleaning solutions and equipment and certifies their recommended products with a green seal of approval. You can find this seal on many products in your local department or grocery store. Certified spot removers include Mohawk Floorcare Essentials Carpet Spot Remover and Carpet Stain Remover, Arm & Hammer Odor and Stain Remover for Carpet, BioLogix Pet Odor & Spot Eliminator and Simple Green Carpet Cleaner Spot and Stain Remover. Recommended carpet-cleaning products include Simple Green Carpet Cleaner, Green for Carpets and Carpet Complete Carpet Cleaner. Steam-cleaning carpet treatments include Rug Doctor Carpet Cleaner and Safeguard Extraction Carpet Cleaner.
WoolSafe-Approved Carpet Cleaning Products
Wool carpets require special care and attention. Not all carpet cleaners are safe for use on wool rugs or carpets. The WoolSafe Approved Mark on a product tells consumers that the product has been tested and found safe and effective for use on wool. According to WoolSafe, products that have this mark will not cause damage to the fibers or colors, nor will they promote rapid dirt accumulation. Recommended spot removers include Mohawk Floorcare Essentials Carpet Stain Remover, Shout Carpet Spot and Stain Remover and the Woolclean Spot Removal Kit. Other recommended carpet products include Shout Carpet Deep Cleaning, EnviroDri Carpet Cleaner Microsponges and Pet Odor&Stain Capture Dry Cleaner.
Design for the Environment-Recognized Products
Design for the Environment, an EPA Partnership program, lists products that are good for the environment and healthy for use in the home. Their recommended carpet cleaners include Little Green Machine Carpet cleaner, Natural Orange Extract Formula, Oxy Gen2, Oxy Pro Carpet Cleaner, Clean Control Allergen Carpet & Upholstery Cleaner, EarthWell Carpet Cleaner and Martha Stewart Clean Carpet Spot Remover.
Better Homes and Gardens DIY Carpet Cleaner
Better Homes and Gardens recommends a self-made carpet cleaner for in-between deep cleanings by professionals. Many professional cleaners will also recommend this method as it does not interfere with any stain guards that may have been applied to the carpeting. For a general carpet stain remover, mix 1 tsp. mild dish detergent with 1 liter of warm water. Then add 1/4 tsp. white vinegar. Apply to stain and let soak for 10 minutes before blotting up with white towels. For a stronger solution, mix 1 cup of white vinegar with 2 cups of water.
References
Writer Bio
Lillian Teague is a professional writer and editor with more than 15 years of experience in taking hard-to-understand subjects and making them easily understood. She's written thousands of articles for newspaper, periodicals and the Internet. Published work includes VA publications, MMS publications, USAF's The Mobility Forum, Wheretostay.com, Rateempire.com, 1Loansusa.com and many others.
Photo Credits
Background carpet image by fotolia © 2happy from Fotolia.com
More Articles