Creative Furniture Restoration Ideas
Restoring furniture yourself is a great way to add new life to any room.The possibilities can seem endless, but consider the piece. Look at the size, shape, period, and function to determine whether a straight restoration, a faux finish or a wacky paint job would bring out the beauty of the piece. Always start by removing any existing finish, thoroughly cleaning the piece and removing all hardware. Remember to protect your workspace with drop cloths, and gather all your supplies before you begin.
Straight Restoration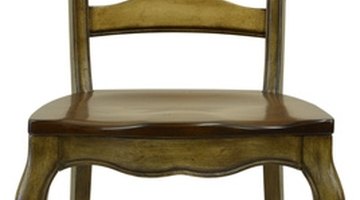 If a piece of furniture is an antique in good condition, consider straight restoration. Improperly refinishing an antique can seriously reduce its value, so it's a good idea to do some research. Find pictures or drawings of what the piece looked like new, and restain and upholster your piece accordingly. An antiques dealer that specializes in the period or type of piece you are doing can offer helpful advice and tips to make your job go more smoothly without causing damage. A straight restoration usually involves sanding, repairing edges, staining and upholstering.
Faux Finish
Faux finishes run the gamut from playful to elegant and are good at disguising uneven or damaged surfaces. The piece is usually painted with a base color; then a second color mixed with an extender or other medium is applied using a variety of tools and techniques. Crackle finishes are a popular look for furniture and are easy to do at home. Marbling and faux malachite finishes create the look of stone on any surface and can be quite convincing if done properly. It is also possible to create the illusion of leather, denim, plaster and even granite, using nothing more than paint, a brush and maybe some newspaper or a sponge. Practice any technique you are unfamiliar with on paper or cardboard before applying it to the furniture.
Custom Paint
A plain old paint job is often the best option for some pieces of furniture. If the old finish is too difficult to remove, the surface is damaged or uneven, and a faux finish is too busy or involved for your taste, a good coat of paint can be the perfect remedy. Create a custom match to another piece of furniture or even a wall. Latex paints and oil enamels can both be easily mixed to find the exact color you need, and both are very easy to apply. A minimum of two thin coats is usually necessary for good coverage, but you do not have to stop there. Consider embellishing edges or carvings with a tiny brush dipped in metallic paint. For a kid's room, a squeeze bottle makes painting polka dots and swirls simple. Add flowers, stripes or a different color wash with diluted paint to add interest to the piece. Wet paint is easily wiped off with a wet rag, so don't be afraid to experiment!
References
Writer Bio
Angela Brady has been writing since 1997. Currently transitioning to a research career in oncolytic virology, she has won awards for her work related to genomics, proteomics, and biotechnology. She is also an authority on sustainable design, having studied, practiced and written extensively on the subject.
Photo Credits
antique hand painted dining chair image by James Phelps from Fotolia.com
More Articles