Baking Soda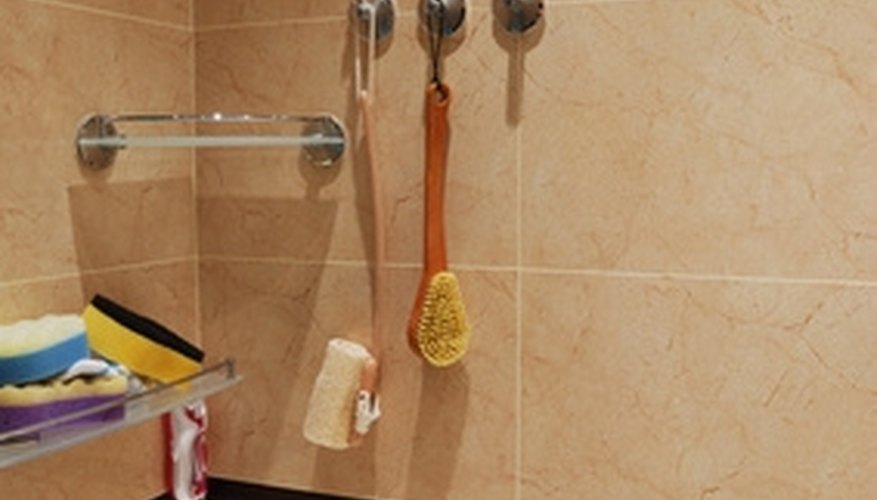 Although the tile may look nice when it's new, mildew, soap scum and kitchen spills can have your tile looking grimy. Instead of using harsh, and often expensive, chemicals on the tile, use some home remedies. Not only will your tile look like new, but you'll also save money---and the environment---by using non-toxic home products.
Baking soda works to deodorize, clean and act a scrub for daily cleaning. Sprinkle a dampened sponge with baking soda. Scrub the baking soda into the tile and the grout. For stubborn stains, sprinkle the baking soda directly onto them and allow it to sit for a few minutes before scrubbing at the stains with the sponge. This helps to eliminate kitchen stains, soap scum and lime on the tile. Rinse the baking soda off with water.
Vinegar
For very stubborn stains, use vinegar. Soak a sponge in white vinegar and wipe down all of the tile. The vinegar will break down grease, oil, old stains, limescale, soap scum and mildew. However, it can also break down the grout in between the tile, so be careful around the grout. When finished, you can sprinkle baking soda on top of the vinegar and wipe up using a sponge. Rinse the tile down with cool water.
Lemon Juice
Lemon juice is an extremely strong acid and works well at killing bacteria and cleaning products. Many bathrooms will have mold and mildew collect in the corners. Squeeze half a lemon down the corner of the tile (starting at the top and allowing the juice to drip down), and allow it to set on the mold/mildew for five to 10 minutes. Sprinkle baking soda down the corner, on top of the juice and scrub it in using a sponge. Rinse the area off using cool water.