Disadvantages of Wall Ovens
Wall ovens have many advantages over a conventional oven-and-range combination. They eliminate bending, are positioned closer to eye level and provide greater kitchen design flexibility. However, wall ovens aren't the right option for every kitchen. These appliances can cost more than a conventional stove, and don't always provide the space and features that homeowners need. Learning about the disadvantages of wall ovens can help you make the right decision for your home.
Price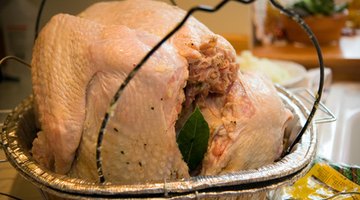 As of 2010 and according to Consumer Reports, buyers pay $1,300 or more for separate cooktop and wall oven units. Conventional electric and gas ranges costs significantly less, even for high end models. Consumers can choose a top-performing electric or gas stove with a standard oven for about half what they pay for a wall oven and range. Some wall ovens offer special baking features at a higher cost, but may not perform better than a much cheaper conventional oven.
Space
While wall ovens save floorspace–since they're set into the wall–choosing the wrong size could cause problems. According to Consumer Reports, wall ovens normally come in 24, 27 or 30 inch widths, while Better Homes and Gardens reports that conventional ovens are usually 27 to 30 inches. Models that are 24 inches are the most readily available and least costly. Smaller wall ovens may not be large enough for roasting whole turkeys or cooking meals with multiple dishes. While some homeowners are able to solve the oven space problem by installing two wall ovens, this still doesn't provide room for large single dishes. It's possible to get a wall oven the same size as a conventional oven, but homeowners should expect to pay for the additional width.
Fuel
The majority of wall ovens on the market are powered by electricity. These ovens may cost more to operate, and can be inconvenient for homeowners, since each electric kitchen appliance needs its own circuit. An electric wall oven and cooktop would each require their own dedicated circuit, while a conventional range requires only a single circuit. Gas-operated models may not require a dedicated circuit, but can be more challenging to find.
Controls
Most wall ovens offer electronic touch controls, which offer significantly greater control than knob or lever controls. However, according to Wright State University, electronic touch controls can be problematic for owners who have visual impairments. For these people, a conventional oven with knob or lever-style controls may be more appropriate.
References
Writer Bio
G.D. Palmer is a freelance writer and illustrator living in Milwaukee, Wis. She has been producing print and Web content for various organizations since 1998 and has been freelancing full-time since 2007. Palmer holds a Bachelor of Arts degree in writing and studio art from Beloit College in Beloit, Wis.
Photo Credits
More Articles